Is product management with Monday.com any good?
If you're looking for an online tool to assist you with managing, developing, planning, marketing, and launching your products, you may have come across Monday.com.
But is Monday.com actually any good when it comes to product management? Or is it just another typical generic task and project management tool?
Read more: Monday.com Project Management Review. 
Product Management With Monday.com
Strap yourself in because that's exactly what I will uncover in this Monday.com product management review!
I'll dive into everything I know about Monday.com to determine if you should use it for your product management.
Let's go!
What Is Monday.com?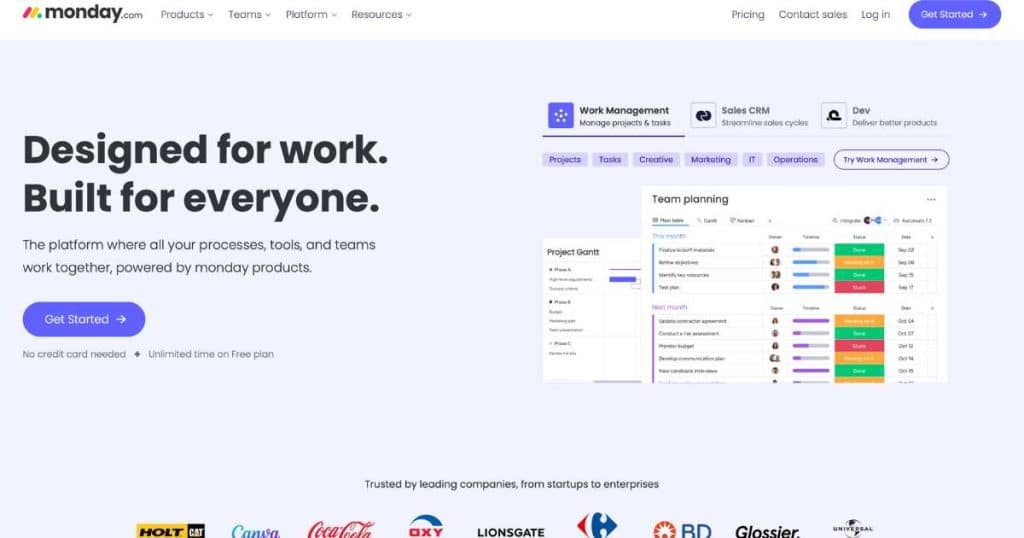 Monday.com is an easy-to-use, visually appealing, and versatile all-in-one work management solution.
Known for its highly customizable workflow capabilities, Monday.com is an end-to-end software platform that offers robust capabilities across various aspects of work.
Basically, with Monday.com, you can manage any type of project that you're working on!
Including…..product management.
From task allocation, time tracking, file sharing, team collaboration, and more, Monday.com streamlines your work processes, enables smooth teamwork, and helps you deliver results.
Read more: What Does Monday.com Do? 
What Is Product Management Software?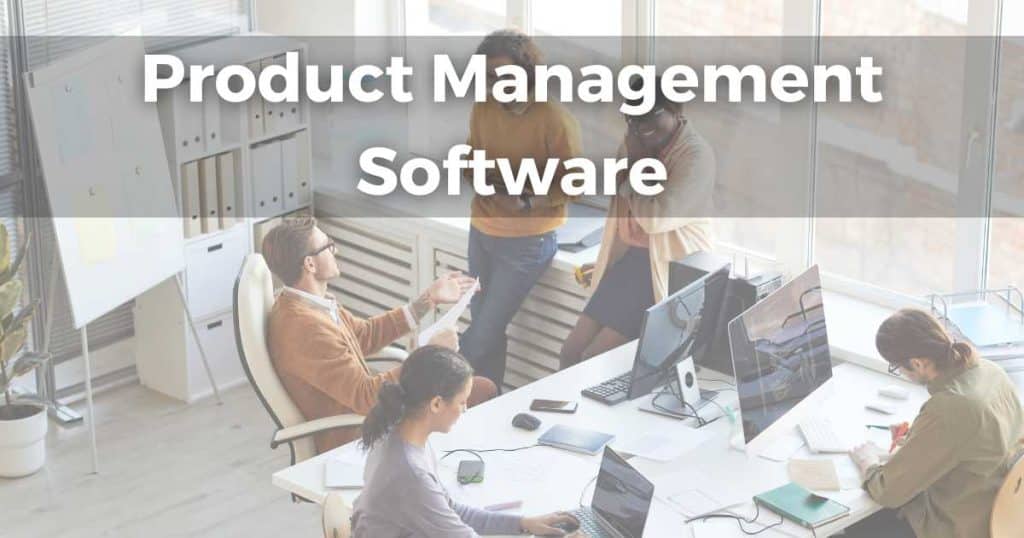 Efficient product management is crucial for any organization wanting to develop and maintain successful products.
Product management software is essentially a suite of specialized tools and applications that provide a central hub for businesses and product teams.
Whether it's product launch planning, software development, prototypes, product analytics, or product marketing, product management software is what you need!
The software aims to help with collaboration, streamlined workflows, and decision-making among stakeholders, product managers, designers, and developers.
With product management software by your side, you can turn your product dreams into reality!
Read more: How To Use Monday.com? 
Monday.com Product Management Review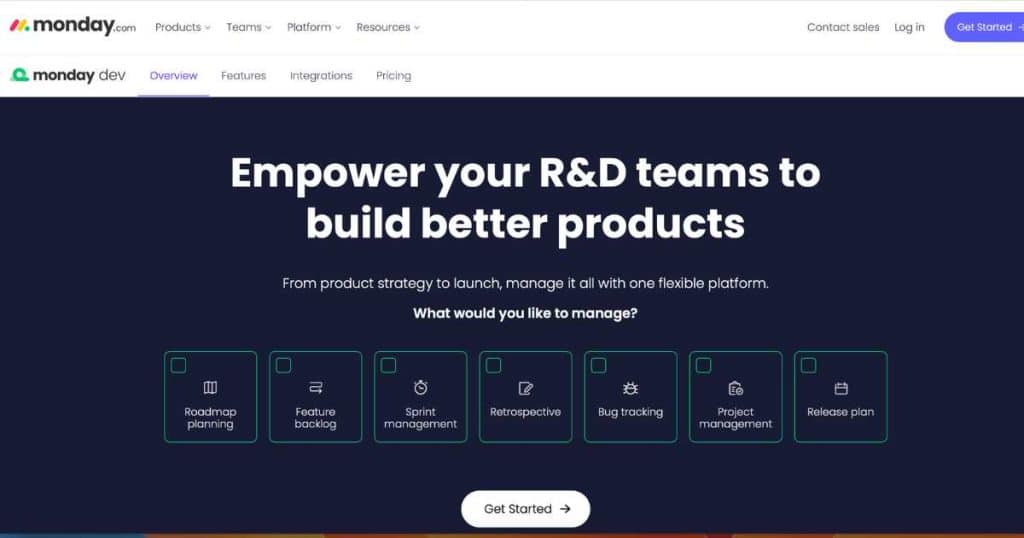 In today's fast-paced and ever-changing business landscape, bringing products to market requires careful planning and seamless execution.
And a reliable and comprehensive product management software like Monday.com can help you do just that!
Monday.com was designed to make planning, tracking, and managing daily tasks easy.
From the initial planning stage until the very end, Monday.com is with you every step of the way.
Let's find out how.
Read more: What Companies Use Monday.com?
Easy To Use Interface
Monday.com is known for its shallow learning curve and visually appealing, intuitive interface – and it doesn't disappoint.
Even beginners without training can get up and running with product management with Monday.com!
How does it all work?
Boards within Monday.com represent a particular workflow or project, and within those boards are columns (specific details relating to that board).
These columns could include names, due dates, statuses, task names, assignees, etc, and are all highly customizable to suit your specific product launch or project.
Within your board, you can add tasks, assign team members, create due dates, and more.
Manage Team
Once you've assigned team members tasks, you can:
Monitor their progress.
Manage deadlines.
Ensure an equal distribution of workload.
By doing this, your team members will know what they're doing (and when), ensuring accountability, responsibility, and efficiency!
Read more: How To Create A Team In Monday.com?
Customizable Workflows
One of the best things about Monday.com is its incredible level of customization and flexibility.
Simply select from one of Monday's wide range of templates (there's a template for any type of team or stage of product management!), then tailor it to your liking.
Basically, you have the flexibility to customize your chosen template according to the specific requirements of your product development cycle – how cool is that?
Product Management Features
Boasting a range of robust features crucial for efficient product management, Monday.com is the perfect scalable choice for teams looking for a daily workflow management solution.
Some product management features and templates include:
Road-map planning.
Feature backlog.
Burndown Chart.
Sprint Management.
Docs.
Automations.
Bug tracking.
With the help of Monday.com, you and your team can easily define ownership of tasks, track and analyze work progress, manage sprints, and promote seamless team collaboration.
Whether you require tracking performance metrics or just a solution to keep your team on track, Monday.com provides you with varied management tools aimed at enhancing productivity and streamlining teamwork!
And, of course, Monday.com ensures that workflow management is simple, intuitive, and effective.
Read more: How To Track Time In Monday.com?
Monday.com for your Product RoadMap
How does Monday.com stack up when it comes to creating a streamlined product roadmap?
A product roadmap does exactly what it says – it helps you 'map' out your product, visualizing and creating a clear plan of anything you need to do or tackle along the way.
Their dedicated road-map planning template allows you to oversee your entire product lifecycle efficiently, from project initiation to delivery (and even feedback integration).
This ready-to-use template makes it easy for you to:
Handle deadlines.
Automate notifications.
Assign dependencies.
Establish priority status.
The result? A seamless and streamlined product management process!
Automations
Monday.com is one of the best in the business regarding automations!
You can create no-code, customizable automation workflows for just about everything.
From tasks, email notifications, status updates, due date alerts, time tracking, and more, you can save time and stay updated with everything you need to know about your products and projects.
Read more about Monday.com's automations here.
Monday.com Product Management Pricing:
To make the most out of Monday.com for product management, you'll have to sign up for one of their Monday dev plans.
Basic: $9 per seat per month.
Standard: $12 per seat per month.
Pro: $23 per seat per month.
Enterprise: Custom Price.
Although there's currently no free Dev plan (October 2023), one is coming soon with basic product management and development features – exciting!
What I Like:
I've said it before, and I'll say it again – the level of customization within Monday.com is truly unmatched!
The hundreds of automation templates within Monday.com are easy to create and use, saving you time!
The number of integrations with over 200 popular third-party apps like Slack, Google Drive, MailChimp, HubSpot, and more.
The dedicated product development plan is perfect for teams solely focused on product management and is jam-packed with specific features and tools to help you effectively plan, develop, and market your products.
Elements and dependencies can seamlessly connect across all different board types!
What I Dislike:
Although Monday.com is easy to use, the number of customization options may overwhelm some users.
The different plan types! Some users may not realize that they have to opt for a Monday Dev plan to get the most out of product management with Monday.com.
There is no internal chat feature like what ClickUp or SmartSuite offers. To chat with your team, you'll have to integrate third-party software.
Because of the pay-by-user pricing structure, it can get pricey if your team grows.
My Favorite Feature Of Monday.com Product Management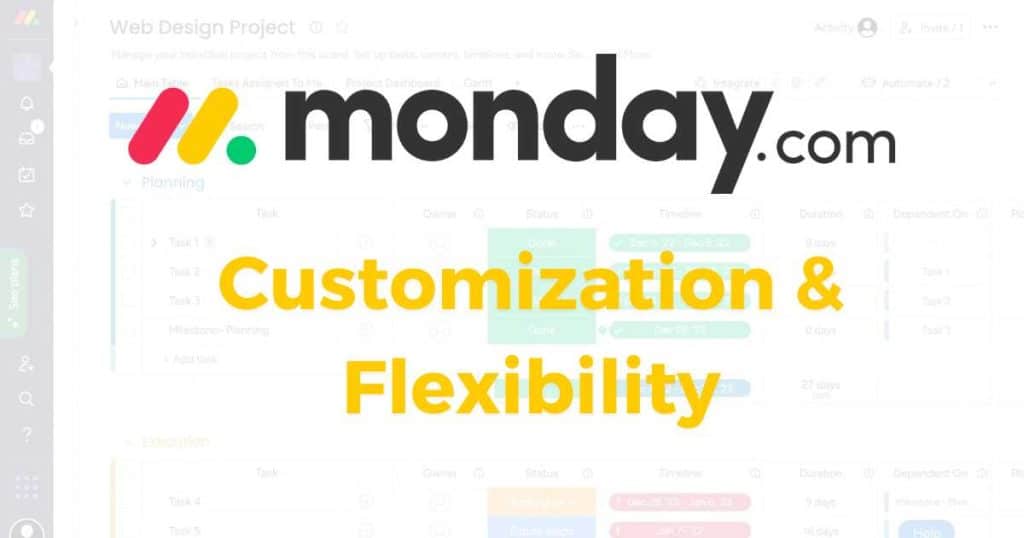 One of the standout features of Monday.com is the exceptional level of customization and flexibility it provides through its visual interface.
This flexibility empowers you to manage your products and mold your workflow according to your unique needs and work style, no matter what you're working on!
With multiple templates and fully customizable boards, you can easily modify, remove, and add columns as needed for different tasks, projects, or products.
Plus, you can switch between multiple view options like Table, Timeline, Calendar, or Kanban!
But that's not all! Monday.com's customization and flexibility allow you to set up and connect different dependencies across your boards.
This can create a more cohesive, interconnected workflow that maximizes efficiency and productivity!
Read more: How To Use Monday.com CRM 
Monday.com Product Management Alternatives
I believe Monday.com is a good product management tool for teams looking for a scalable all-in-one solution.
But if you've gotten this far and are not convinced that Monday.com for product management is for you, don't worry – I've got you covered!
Monday.com isn't for everyone, so here are three Monday.com product management alternatives that might tickle your fancy: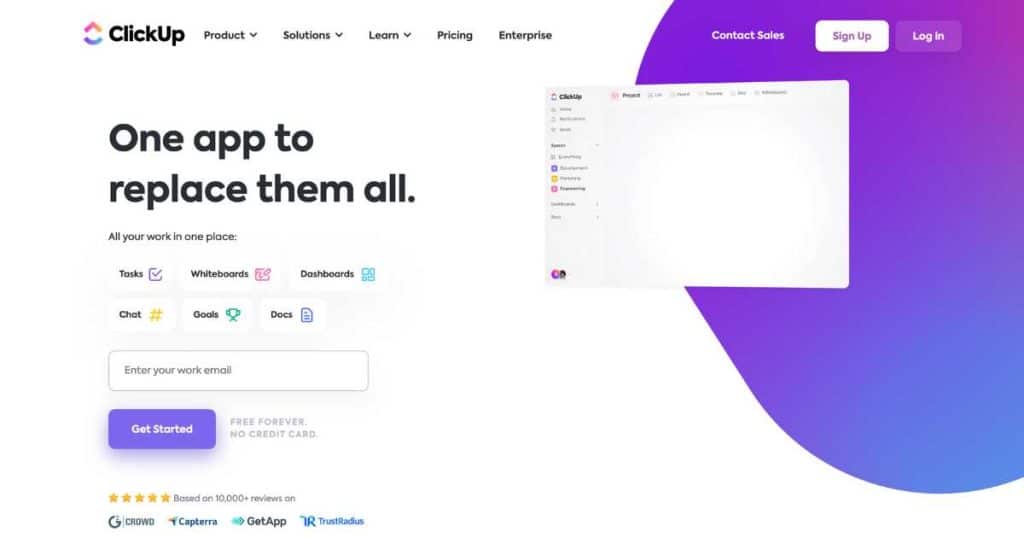 ClickUp is a comprehensive one-stop-shop project management and team collaboration tool for businesses of all sizes.
Often directly compared with Monday.com, ClickUp caters to every aspect of your business, including product management.
With hundreds of advanced features, you can manage your entire project lifecycle, teams, deadlines, resources, and more from a single centralized platform.
With ClickUp, you can:
Create visuals of your product plan.
Build product roadmaps and backlogs.
Align objectives and goals.
Track bugs and issues.
Automate workflows to streamline your product development.
And when you've finished creating, simply track your progress in real-time, create reports, share them with your team, and integrate them with all your favorite tools.
Like Monday.com, ClickUp's customizable platform is a winner, allowing you to configure every workflow to your needs.
But the best part about ClickUp? Their incredible FREE plan offers dynamic sprint management, multiple views, collaboration documents, automations, and more!
Best for teams on a budget that are after a product and project management software.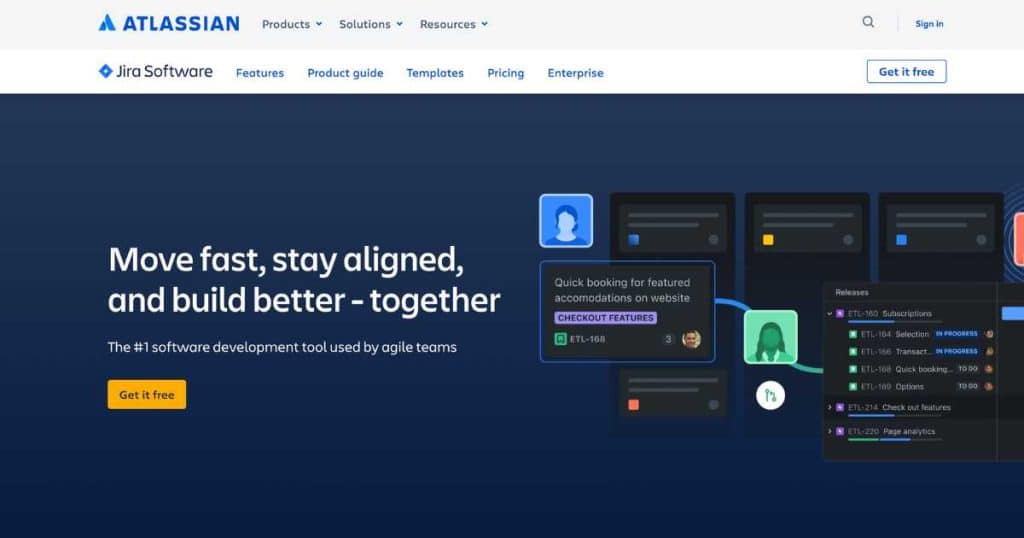 If you're part of an agile and scrum software development team, Jira might be the ideal choice for you!
With Jira, you can streamline the process of gathering and organizing information from all areas of your business into one centralized place for efficient prioritization and planning.
Basically, Jira is a go-to solution for optimizing project planning, tracking, and implementation within entire software development lifecycles.
Key features of Jira include:
Scrum and Kanban boards (designed for agile teams).
Bug and issue tracking capabilities.
Multi-tiered roadmaps.
Backlog management.
Program board.
Detailed analytics and forecasting.
Built-in workflow automation.
Read more about Jira's product management features here.
Jira's functional scrum board view type allows agile teams to break down their complex and bigger projects into more manageable tasks, so teams working in sprints can get things done quicker.
The free plan supports ten users, basic workflow management, and full access to Jira's work management platform.
Paid plans start from $8 per user per month and include more advanced features like Advanced Roadmaps.
 Best for agile software development teams!
 Read more: How To Use Jira For Project Management.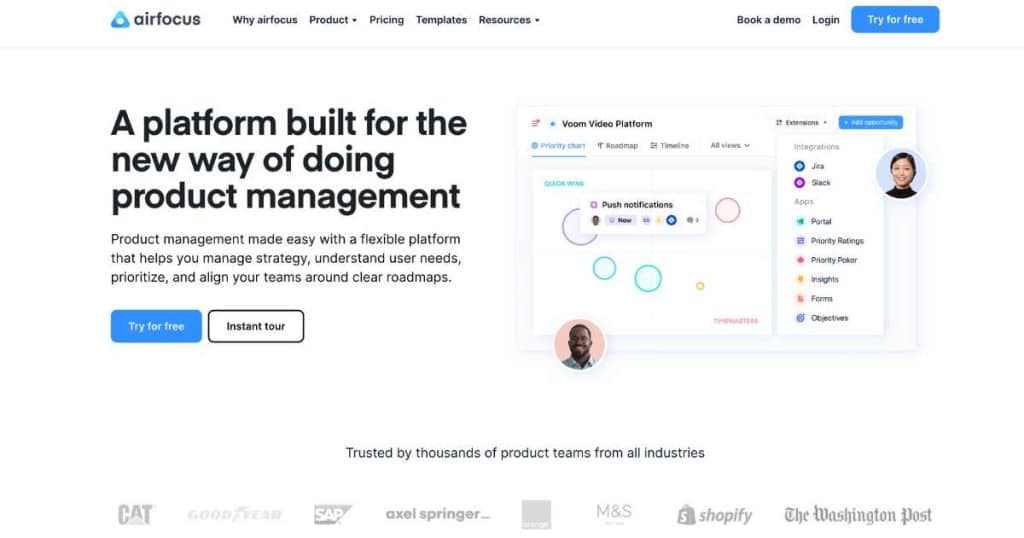 Discover airfocus, a modern, flexible, and dedicated product management platform that offers a comprehensive solution specifically for product-based teams.
airfocus is a complete solution to manage and communicate your strategy, prioritize tasks, develop roadmaps, and effectively address customer feedback.
With its flexible design, airfocus lets you personalize the platform to align with your team's unique requirements (without coming between your existing workflow!)
Notable features of airfocus include:
Roadmapping.
Objectives management.
Product prioritization.
Feedback management and user insights.
Collaboration with your community within the 'Voom' portal.
It's worth mentioning that pricing plans start from $69 per editor per month, which is significantly higher than other product management software mentioned above.
Best for growth teams focused on modular product roadmapping.
Read more: 10 Monday.com Alternatives.
Stew's Final Thoughts
And that is it for this product management Monday.com review!
As you can see, Monday.com is an excellent choice regarding product roadmapping and management.
Plus, if you're after a total work management solution, Monday.com can help you with any area of your business.
Whether it's project management, CRM (customer relationship management), marketing, operations, or sales, there's something for you.
If you're a growing team looking for a scalable product management solution, I'd definitely check out Monday.com.
And if you don't feel it's the right choice for you, you can always give some of the product management alternatives listed above a go.
So, will you be using Monday.com's product management software?
Let me know below.