Are you looking for the best online course platform to sell your courses?
Let's face it – we're all used to online learning in this day and age. And the e-learning market isn't slowing down anytime soon!
In fact, it's actually expected to grow past the $325 billion mark globally by the year 2025!
Courses, videos, webinars, forums, and other e-learning resources are slowly replacing traditional education and learning forums.
So, you better get on the bandwagon; otherwise, you'll get left behind!
Read more: How To Start A Business With No Money.
Best Online Course Platforms 2024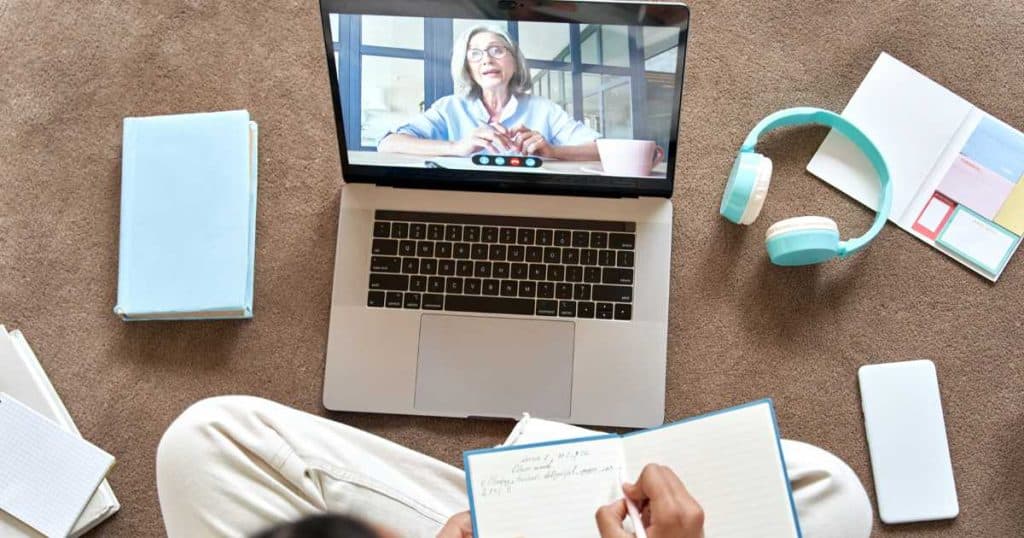 Whether you're an experienced creator or playing with the idea of leveraging and selling your skillset through courses, there are plenty of free and paid online course platforms out there.
But the question remains – where can you sell online courses?
In this article, I'm going to walk you through my top 5 best online course platforms!
I'll be comparing and reviewing these top-notch platforms and their features, pricing, and so much more so you can select the best online course platform for you!
Are you ready to revolutionize the way you sell courses online? 
Why Sell Online Courses?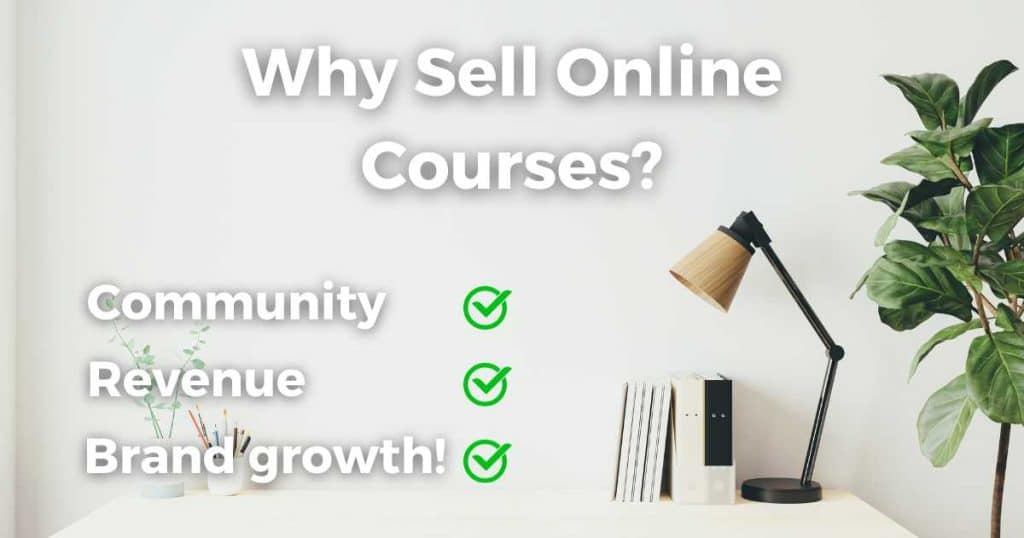 With platforms like YouTube so easily accessible, anyone can quickly upload and share their knowledge with the world through educational videos.
But if you want to delve deeper into a specific topic, courses are the way to go.
There are many reasons why businesses create and sell online courses.
Courses are an excellent way for you to:
Build a loyal and engaging community.
Create an additional revenue stream.
Ultimately, grow your business.
Plus, you can even monetize old content you've previously created!
For example, I have an eBook called Go Digital Now.  However, a course would benefit people with a more visual learning style.
Therefore, with minimal effort, I can turn my eBook into an interactive and personalized course for my community!
As you can see, there are so many benefits to building and selling valuable courses to your audience.
So with that said, what are the best platforms to sell online courses?
Read more: Top 10 MUST have Digital Tools For Small Businesses 
5 Best Free And Paid Online Course Platforms
Now that you know why you should create online courses, let's look at 5 of my favorite free and paid online course platforms.
Rest assured that no matter which platform you choose, you're in for a treat!
Let's jump in.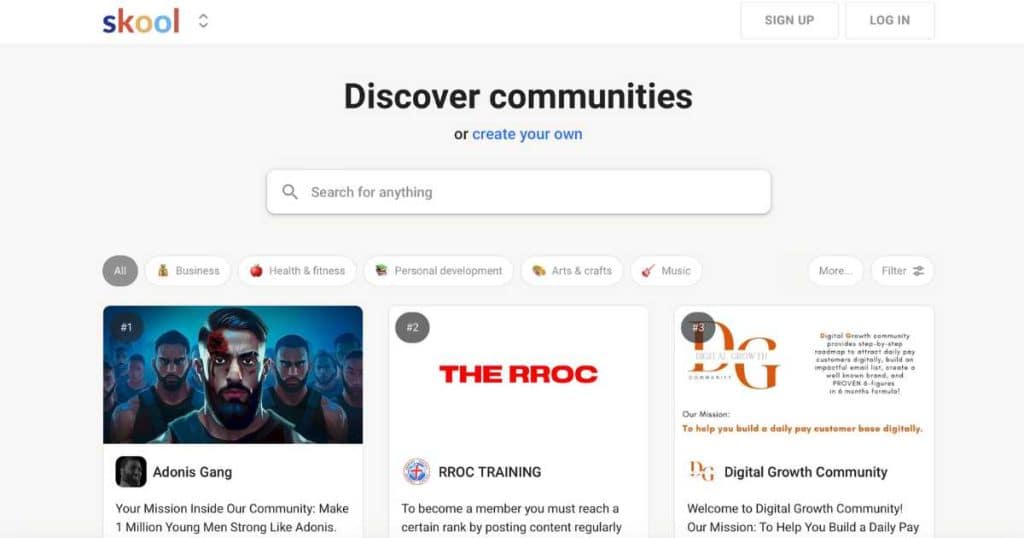 Skool.com is an online, centralized educational platform where creators or business owners can upload and share courses, consultations, events, posts, and ideas with their community.
Skool.com offers four key features: Community, Classroom, Calendar, and Gamification.
The 'Classroom' feature is where you can build, share, and sell your courses to your exclusive community.
All you need to do is add sets and modules (these could be videos, links, diagrams, resources, transcripts, and more) to make up your unique course.
There are options to drip-feed your course module to members, select which community members can access it, or create 'action posts' to encourage members to finish your course.
Plus, you can simply integrate exclusive deals and courses as rewards when a user unlocks a certain level through Skool's fun and encouraging point-scoring gamification feature.
Skool.com is a total community platform where members can view, complete, discuss, and give feedback on your courses right within their Skool account!
Want to know more? Read my full Skool review here 
Skool.com Review
Best for Community-driven creators.
There's a lot to like about Skool.com, but it's not perfect.
If it were down to user experience alone, Skool would receive a 10/10 rating. The interface is easy to learn and navigate, and features are easily accessible.
In terms of features, Skool.com is extremely community-driven (which is awesome!) but needs to improve in a couple of areas.
For example, there's currently no native video hosting or live streaming feature (October 2023). Plus, the course builder is fairly basic, and you can't add interactive tools like quizzes.
Users after a full-tech stack may be disappointed in these limited features.
In saying that, they do have some impressive built-in features, such as:
Metrics to analyze performance and engagement.
Internal chat software to replace third-party tools like Slack.
Integrated calendar function for events and meetings.
The simple one-plan flat rate of $99 per month means anyone can create unlimited courses, add unlimited members, and access every Skool feature.
Although their pricing is more affordable than other complex course creation platforms, small teams or individuals on a budget may still think the price is too steep.
Regarding support, there's an active and fast-growing supportive online community full of helpful resources!
Overall Rating: 8.5/10.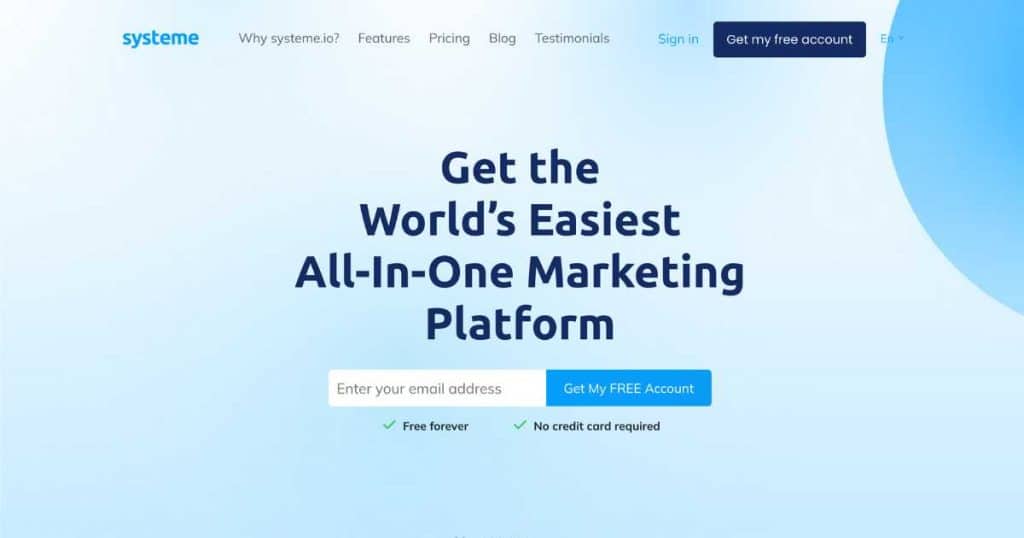 Best for budget-conscious small teams.
Systeme.io is a go-to all-around marketing and sales tool that helps you effortlessly establish and manage your business.
Want to build a sales funnel, website, or course? Create memberships and subscriptions? This is all completely doable within Systeme.io's user-friendly platform!
With Systeme.io, you'll have everything you need at your fingertips to successfully market and sell your digital or physical products and services online.
Systeme.io shines as the ultimate solution for service-based teams needing to create online courses.
The best part? Systeme.io offers a FREE plan! That's right, you can create one course for free with no hidden costs involved!
Simply set up and build your online course, then host your course through your own membership website!
You can choose from one of Systeme.io's lecture templates, add your own text, forms, and video modules, and personalize your course content through buttons, icons, colors, and more.
If you're seeking an all-inclusive digital marketing toolkit in addition to creating compelling courses, Systeme.io stands as an excellent choice!
Read more: How To Create a Course For FREE With Systeme.io?
Systeme.io Review
Systeme.io is known for its cheap pricing plans, user-friendly platform, range of features, and shallow learning curve. But does it live up to the hype?
The short answer is yes! In my opinion, Systeme.io has a lot to offer in terms of functionality vs affordability.
Are you a small business owner wanting to get your name out in the world but don't have the budget to spend on fancy tools?
You absolutely should use Systeme.io for your courses, sales funnels, and other marketing strategies.
The catch? You'll only be able to create one course (amongst other limitations) on the free plan. But in saying that, there are no limits on emails, community members, or students.
And if you need to upgrade to a paid plan, the most you'll pay (for the 'Unlimited' plan) is $97 monthly. This is pretty good value for how much you get with Systeme.io!
In terms of features, Systeme.io isn't missing much. The only missing feature I can think of is that there's no community aspect within the tool (like you get with Skool!)
Fundamentally, Systeme.io is a pretty basic all-in-one marketing toolkit.
Therefore, the design customization is limited, and you can't add interactive elements like quizzes, surveys, or calendars.
But it does offer everything. And maybe that's what you're after! Considering the price and how easy it is to use, I'm not complaining.
Overall score: 8.8/10.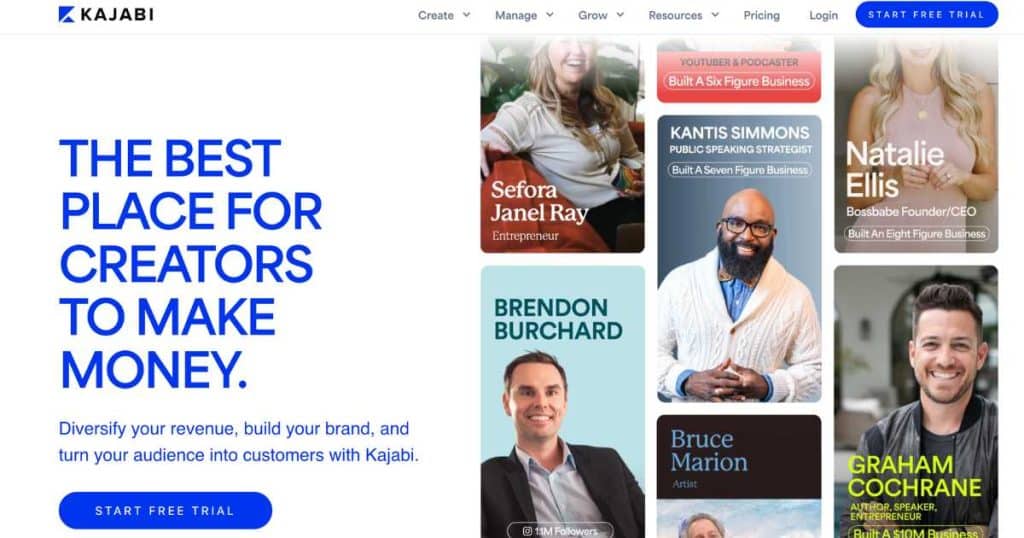 Best all-in-one platform.
Kajabi has been revolutionizing online course creation and sales since its creation in 2010.
Now, with a remarkable user base exceeding 50,000, Kajabi is still a leading all-in-one solution used by many.
Unleashing the full potential of your online business has never been easier, as Kajabi offers an all-inclusive suite of tools to meet your every need.
Whether it's:
Designing courses.
Automating email campaigns.
Managing payments and affiliate programs.
Building a community.
Creating funnels, websites, or blogs (the list continues!)
Kajabi has something for you! These features and capabilities are a key factor contributing to Kajabi's widespread popularity.
Basically, Kajabi is all you need by your side to help you run your online business!
Read more: Kajabi vs ClickFunnels.
Kajabi Review
Kajabi certainly lives up to its 'all-in-one marketing platform' name. But how does it stack up when it comes to course creation and selling?
Regarding ease of use, Kajabi doesn't disappoint. Its user interface and course design is outstanding, offering an easy drag-and-drop editor to support this.
With their customizable templates, you can easily create the course of your dreams!
Whether it's finance, personal development, meditation, or anything in between, you can build mini to comprehensive courses that your audience will love!
One of the things I love is the number of interactive elements that you can add to your courses. Kajabi allows you to add:
Quizzes.
Surveys.
Tests.
Assignments.
Plus, you can drip-feed your course sections out to members over a selected period.
In terms of support, Kajabi's dedicated 24/7 live chat support and value-rich community is potentially the best in the industry!
Alright, so you're probably thinking…..this sounds great! Why wouldn't I choose this as my online course platform?
Well, I'll tell you why! This feature-rich platform comes with a hefty price tag attached. Pricing plans start from $119 per month, creeping up to over $300 for the 'Pro' plan.
In my opinion, the price is way too high for small businesses or creators to justify. But in saying this, if you're serious about course creation, Kajabi is one of the best out there.
Overall rating: 9/10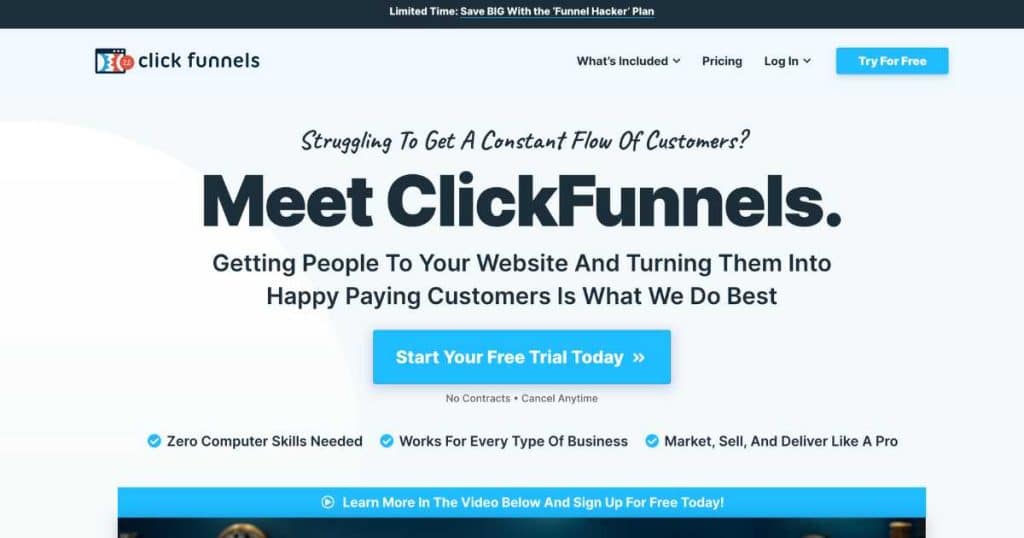 If you're a sales-focused team concentrating on driving conversions through marketing funnels, then you will love ClickFunnels.
But did you know that ClickFunnels isn't just a sales funnel builder? In the last few years, they've really stepped up their game!
Now widely used as a one-stop marketing shop, ClickFunnels provides everything you need to create and manage your physical and digital products. From:
Courses.
Membership programs.
Websites.
Email marketing.
Sales funnels, and more.
You can effectively grow your brand and business on one easy-to-use platform.
And with the newly released ClickFunnels 2.0 finally here after two years, you can do even more with the platform!
Think blogs, eCommerce, checkout and payment options, CRM, and affiliate management (coming soon). The opportunities are endless!
Learn more about how to use ClickFunnels here.
ClickFunnels Review
Best for sales-driven teams
ClickFunnels is undoubtedly the most popular sales funnel marketing platform out there. But what about courses? What does it bring to the table? I'll start with ease of use.
In general, it's pretty user-friendly, but personally I find the editor to be a bit clunky.
With plenty of templates, you can easily create, personalize, schedule, or drip-feed your course content to your customers.
One of the cool things about ClickFunnels is that you can build your own course templates and then sell them to other people, providing you with another passive revenue stream!
However, ClickFunnels lacks some functionality when it comes to courses.
For example, with the drip feed feature, members won't receive any sort of email notification to remind them that the content is ready to view.
Plus, there's no internal content hosting feature within the platform, so you'd need to invest in an external hosting platform and embed videos into your lessons.
And what about pricing? ClickFunnels, unfortunately, is on the more expensive side, costing upwards of $127 (for just the basic plan!).
Although, it's worth mentioning that you get unlimited courses, sales funnels, workflows, email sequences, and products on all plans.
ClickFunnels has a lot to offer, but there are significant drawbacks compared to other similar platforms.
Overall rating: 7/10.
Read more: ClickFunnels Alternatives 2023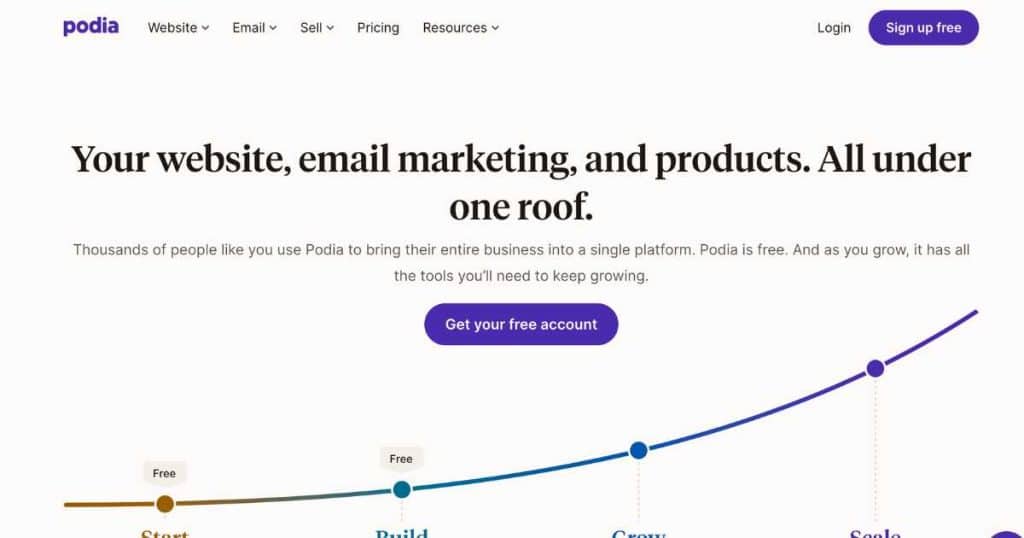 Podia is the ultimate marketing solution for teams or creators looking to create and sell their online courses.
With its inception in 2014, Podia has pivoted and evolved with the times and is now a leading powerhouse in the e-learning world!
Positioned as a hybrid between an all-in-one platform like Kajabi and Skool, Podia strikes the perfect balance of community vs features.
Podia doesn't just stop at courses. With the ability to sell other digital products like:
eBooks.
Digital downloads.
Consultations.
Coaching.
Webinars, and more.
Podia is all you need to sell your digital products!
Plus, it offers a comprehensive suite of essential and additional features (while continually introducing new functionalities).
From memberships, email marketing, websites, cart and affiliate management, and a dedicated community feature, you can take your marketing efforts to the next level with Podia.
Podia Review
Best for coaches.
Podia reminds me of a cheaper, less advanced version of Kajabi. The platform is lightweight, clean, and easy to use – but is more limited regarding features.
In saying that, I like the fact you can set up free or paid plans for your members, and like Skool.com, you can set up courses as rewards for certain members.
One of the cool features of Podia is how easy it is to integrate for coaches to seamlessly connect their calendars to book sessions.
While Podia's design maintains a minimalistic and clean aesthetic, the platform offers only essential functionalities that may not extend beyond the appearance of a simple blog post.
And if you're after sales funnels, you'll be disappointed! Podia currently doesn't offer any sales funnel marketing tools.
Additionally, there's currently no mobile app available, raising doubts about whether your members can truly get what they need out of the platform!
Like Systeme.io, Podia is extremely affordable. They offer a free plan, but the catch is that you can only create draft courses and webinars.
If you actually want to sell, you'll need to upgrade to the Mover ($39 per month) or Shaker ($89 per month) plans. Which, in my opinion, are still pretty affordable!
Overall rating: 8/10 
My Final Thoughts
And there you go! That is it for this comparison article on the best online course platforms.
I hope you can now identify the best solution for you and your team.
As I mentioned at the start of this article, online courses are great for many reasons.
Whether you want to share your knowledge, make money, build a community, or simply grow your business, there's an online course platform for you!
Most of the platforms above offer trials or free plans. So, why don't you give a couple of them a go and test them out for yourself?
I'd love to hear your thoughts and which online course platform you end up using!