In this Google Workspace tutorial, you'll learn how to use Google Workspace to make the most of business emails, productivity, communication and collaboration tools.
Before the year 2020, formal meetings and interactions at the coffee machine were a common sight and it may still be in many offices.
However, due to the pandemic, interactions and meetings now have an inherent risk of viral transmission.
Therefore, business tools like Google Workspace have allowed many businesses to transition to a digital and remote workplace environment.
What is Google Workspace?
Google Workspace has become a key player in maintaining the productivity of "remote" teams.
You'll find all sorts of productivity and collaboration tools by Google such as Meet, Slides, Sheets, Docs, Drive, Calendar, Gmail, and more within Google Workspace.
With the unified integration between all of Google's products, Google Workspace brings key collaboration and communication tools together – like content management, video calling, voice calling, email, and chat – into one place.
Therefore, teams working in offices, homes, or any remote location with a stable internet connection can stay connected, engaged, and productive using Google Workspace.
Key Features of using Google Workspace
15GB + of cloud storage.
Dozens of productivity apps.
Video conferencing.
Business multiple emails (for example name@domainname.com not name@gmail.com).
Task management through Google Calendars.
Real-time collaboration on documents.
Create multiple email aliases.
Create multiple email groups.
Google Workspace 24/7 chat support.
How to Use Google Workspace?
Now, it's time to learn how YOU can use Google Workspace.
Step 1: Sign Up to Google Workspace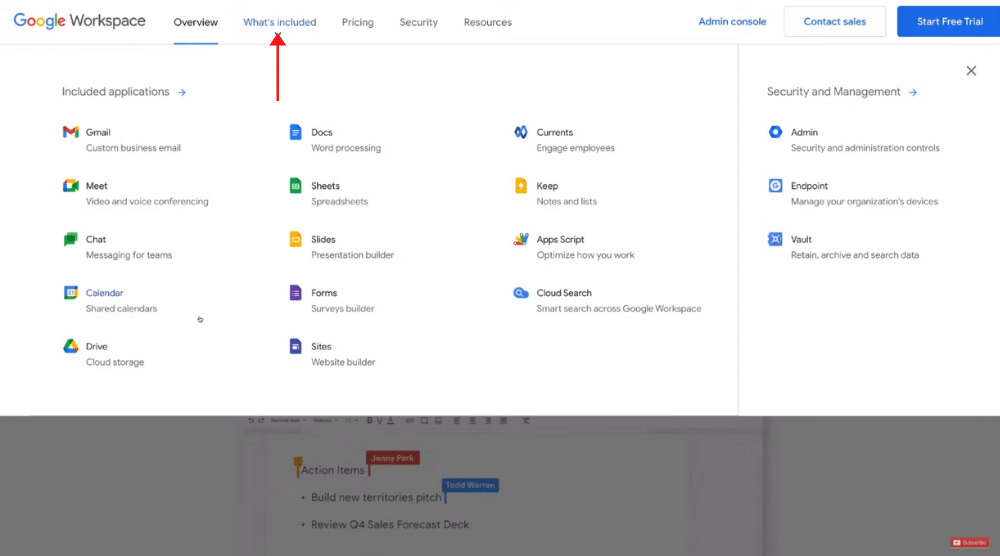 Head over to workspace.google.com.
The great thing about Google Workspace is that it allows you to get started with a 14-day free trial.
During this period, you can learn how to navigate this collaboration and communication software to see if it works for you and your organization.
G Suite has been rebranded to offer an easier-to-use and collaborative work experience for users and is now known as Google Workspace.
If you want to understand the key differences between the two versions, watch this tutorial for more clarity.
You'll find Google Apps and tools under 'What's included'.
It's similar to G Suite, the main obvious difference being the color schemes – which is a part of Google's rebranding efforts.
Step 2: Choose an Appropriate Plan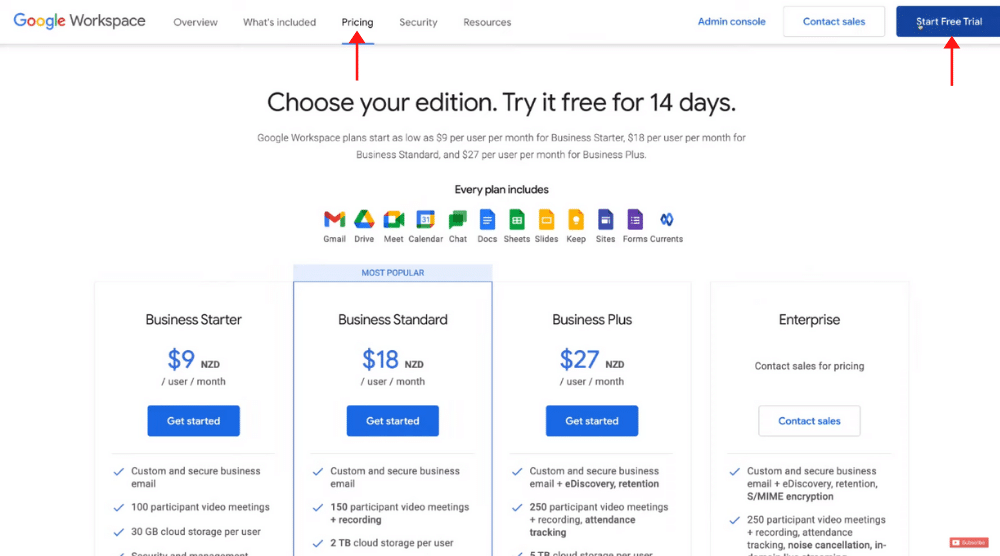 To see the pricing plans for Google Workspace, just click on 'Pricing'.
Small business owners may want to look at the Business Starter (NZD 9 per user per month) and Business Standard plans (NZD 18 per user per month) This price will vary depending on what country you are in.
The difference between these two plans is that the Business Standard plan allows up to 150 participants to join video meetings through the video conferencing tool called Google Meet and recording of meetings.
You'll also notice the 2 TB cloud storage offered under the Business Standard plan (refer to the screengrab).
However, the Business Starter plan only allows 30 GB of cloud storage for every user.
Depending on your business requirements, you can choose the appropriate plan.
For this Google Workspace tutorial, select 'Start Free Trial' on the top-right.
To get started, add your business name, select the number of employees, and country before hitting 'Next'.
Since you're signing up on behalf of your organization, fill in the contact information in the next step – which includes your first name, surname, and current email address.
Later you can shift the account super admin responsibility to someone else (another user).
Now, have a look at these options below:
'I have a domain': Choose this option if you already have a domain name. For example – stewartconsulting.com
'I'd like to buy a domain': Choose this if you don't have a domain yet but would like to buy one
'I'd like a free .page domain': To get started quickly with a free domain, select this option. Instead of '.com' at the end, this free domain will have '.page'. For example – stewartconsulting.page
For this Google Workspace tutorial, we'll choose the first option.
Enter your domain name and hit 'Next'. Click 'Next' again in the subsequent step and choose 'OK' to get occasional emails from Google regarding offers, tips, and announcements.
Step 3: Create Business Email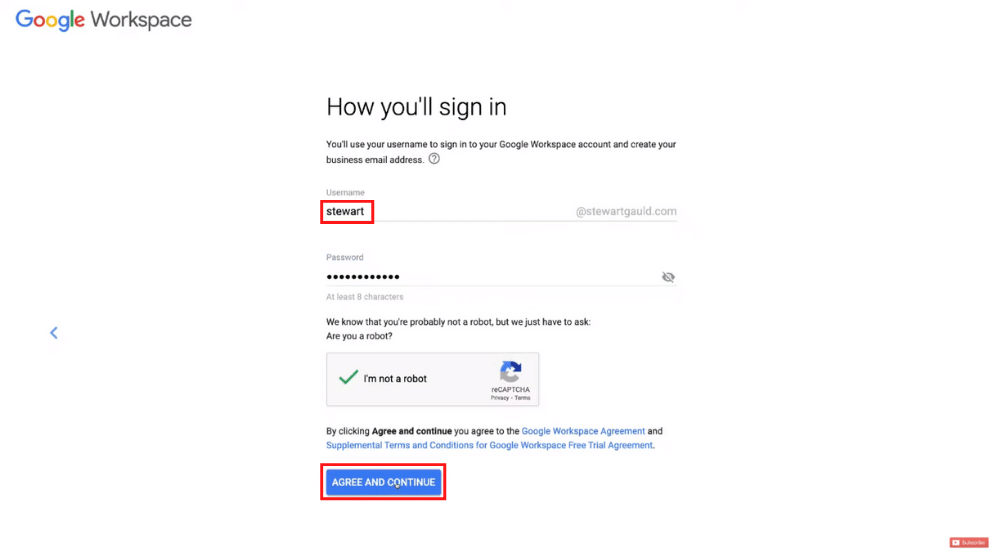 This is one of the most crucial steps when setting up your Google Workspace account.
Within this business email software, you can create multiple business emails for your team members.
Proceed to create an appropriate user name and password for your business email.
For example:
If you have a small team, you can create an email alias instead of multiple business emails.
If you want more information on creating email aliases within Google Workspace, watch this tutorial.
Now, click 'Agree and continue' once you've created your username and password.
Your first Google account within your Google Workspace has been created!
Next, to set up your account, click 'Go to Setup'. You'll be redirected to your Google admin console.
This is where you can manage and control all the different accounts created within Google Workspace.
Step 4: Verify Your Domain Name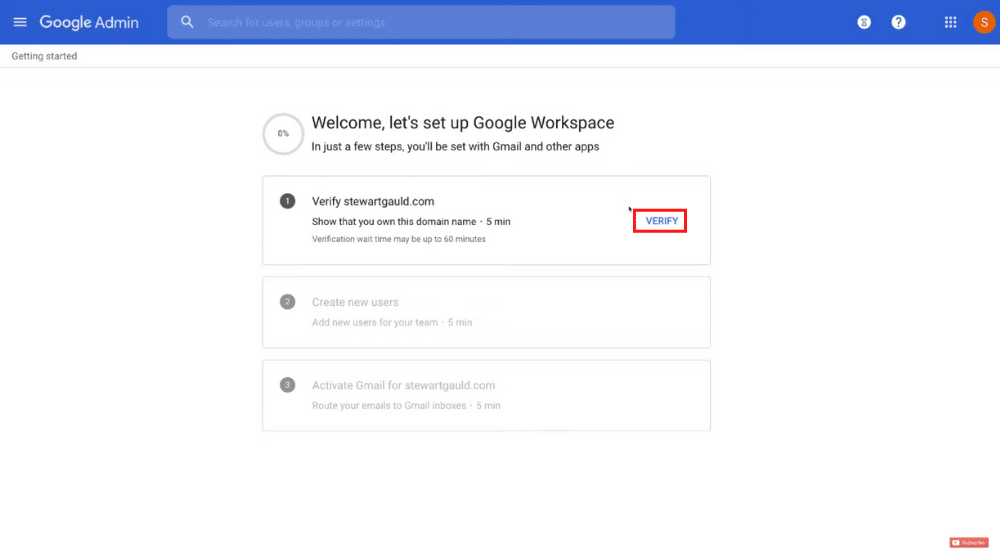 You'll be now required to verify your domain name.
For this Google Workspace tutorial, we're going to opt for TXT verification. To do that, click on 'Verify' and then 'Continue'. Copy the verification code and head over to the Google Domains dashboard.
Select 'DNS' on the left and locate the '@' sign under 'Custom resource records'.
Next to that, we have a drop-down menu through which you need to select 'TXT'.
The space where you see 'Text' is where you have to paste the verification code.
Click 'Add' next to it. Head back to Google Workspace and click 'Verify My Domain'.
The verification process does take some time, but once it's done you can start adding new users to your team. Give them user names and create their passwords.
After this, they will be able to use their own Google Apps.
In the third step, you need to activate your Gmail, which is again a very straightforward process.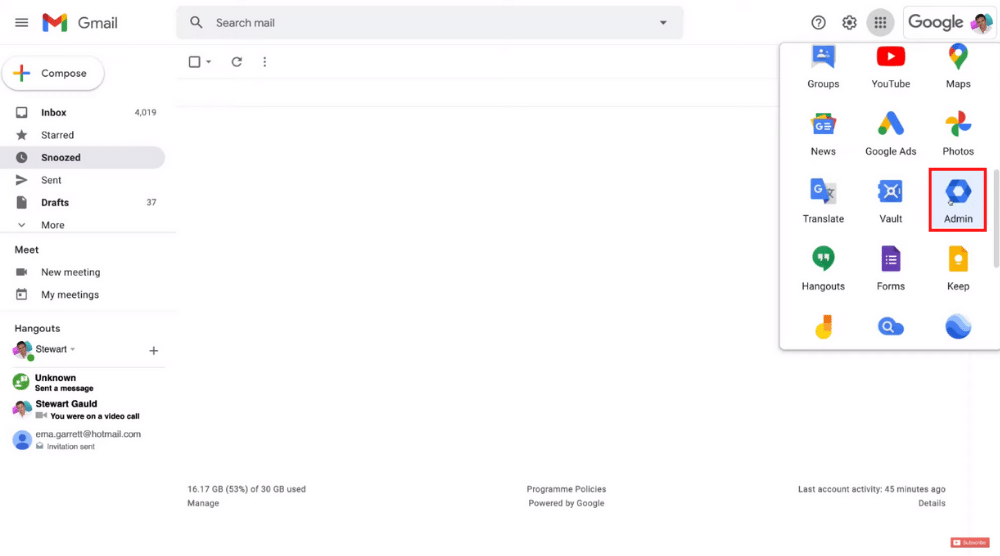 Now, if you need to hand over the admin responsibility to someone else, head over to admin.google.com. Or you can access Google Admin through your Gmail.
Within your Gmail, you can access all your apps as well over on the far top right corner.
And, if you head back to Google Admin, and click on 'Apps' on the right, you can access Gmail from here too.
In your Admin Console, you can also add and manage users by clicking 'Users'. Again, the process is pretty straightforward.
Google Workspace Tutorial for Beginners (Video Guide)
Google Workspace is an integrated solution of collaboration, productivity, and communication tools, developed by Google.
Formally known as G Suite, it brings all of your favorite productivity and communication apps such as Meet, Slides, Docs, Calendar, and more into one place.
This Google Workspace tutorial will help you leverage and get started with Google Workspace.
Both individuals and business owners can streamline their work schedules and optimize their productivity using this incredible software.
Check out our video tutorial designed to help you get started with Google Workspace below.