A Project management software for small businesses like Asana allows you to track project activities, manage teams and tasks, stay on schedule, and allocate resources more efficiently.
A small business owner doesn't have the resources to hire dedicated project managers and big teams to manage different projects.
This is why business owners have to constantly juggle multiple roles, tasks, and projects.
Not surprisingly, most small business owners feel overwhelmed and can never get on top of everything!
This is where the role of free project management software comes into play.
By jumping into a project management software like Asana, business owners can effortlessly stay on top of their projects.
Besides being free, Asana is easy to adopt and use for beginners.
How to Use Asana for Project Management?
Therefore, in this Asana tutorial for beginners, we'll walk you through how to use Asana effectively:
Signing Up to Asana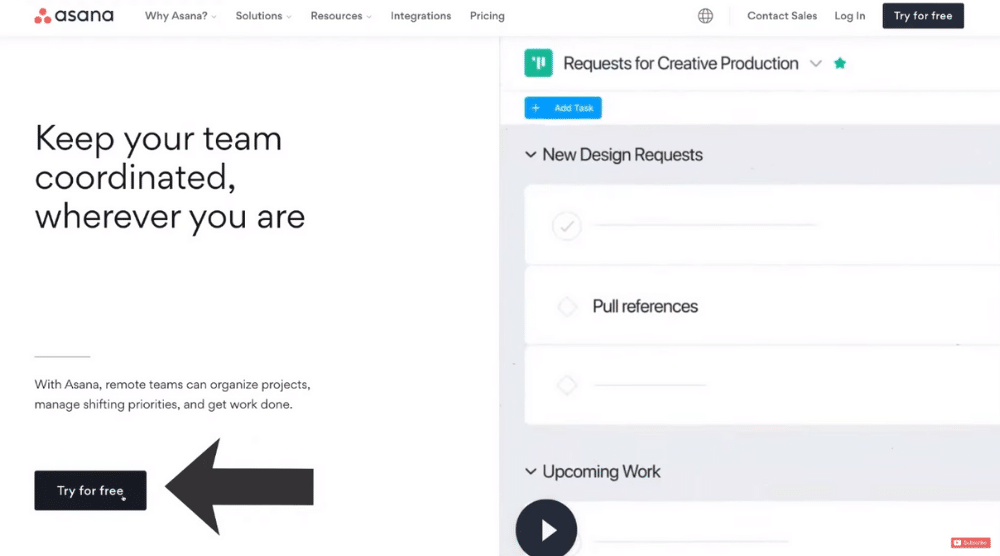 In the first step, simply sign up for Asana.
It is free to use for up to 15 people which is perfect for small teams.
Click on 'Try for free, enter your business email, and select 'Try for free' again.
We will use our Google account to sign up. If you decided to sign up with Google too, verify your email by selecting 'Continue with Google' and then choose a preferred Google account.
Enter your full name and click 'Continue'.
In the subsequent step, give Asana an idea of what your business is about (Marketing, for example) and hit 'Continue'.
How have you been managing projects till now? Is it spreadsheets or the classic pen and paper?
We're going to select 'Pen and paper' for this Asana project management tutorial.
You will now be able to see the Asana project management dashboard. Your dashboard is divided into Projects > Sections > Tasks.
Under each project, you can create a list, visual board as well as set a timeline and calendar.
However, the timeline is a premium feature of Asana project management.
To get started with the first project in Asana, type in the project name on the left-hand side – for us we will add 'Website Design'.
Click 'Continue'. In the next step, enter the tasks that you want to accomplish under this project – we will add logo design, SEO, and content.
Hit 'Continue' again. Now, you can update the stages of your tasks.
For now, we're going to leave it at 'To do'. You can change these statuses later down the track.
Asana project management software will suggest a few layouts for your project.
Select the one that best fits your project. For this Asana tutorial for beginners, we're happy with the list structure.
Congratulations! Your first project has been created within Asana!
Now, click 'Take me to my project'. Asana will ask you to upgrade to a premium plan.
However, the free plan suffices for small businesses.
Hence, go ahead and select 'Continue free trial'. The initial signup to Asana is now complete.
How to Create Teams in Asana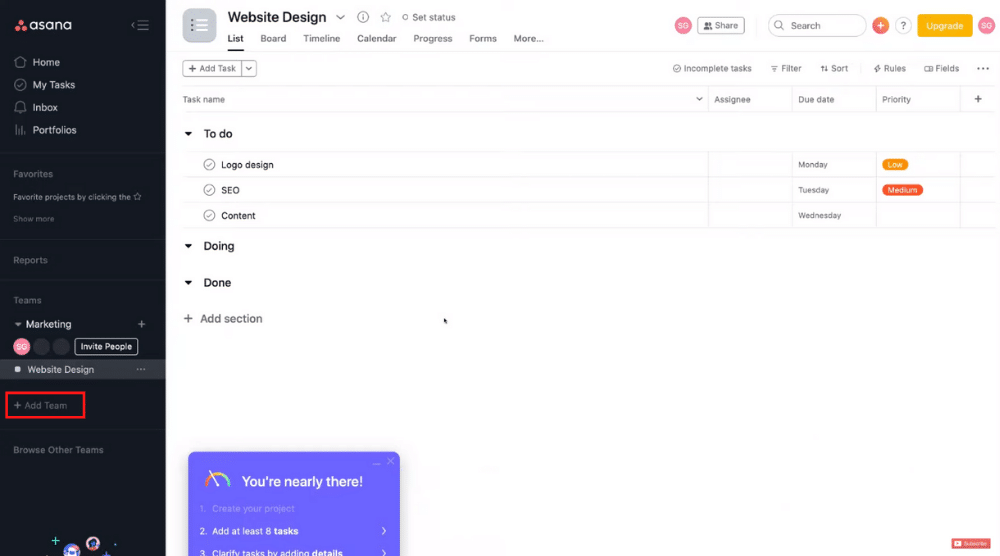 We've already got a marketing team as you can see on the left-hand side.
Let's understand how to invite people to Asana project management software.
Think of your teams as departments of your organization and proceed by clicking 'Add Team'.
Enter the team's name ('Sales' for example), description, and add the team members via email.
Your team members will receive an invite in their email inboxes. Select 'Create team' once you're done.
How to Add Users to Asana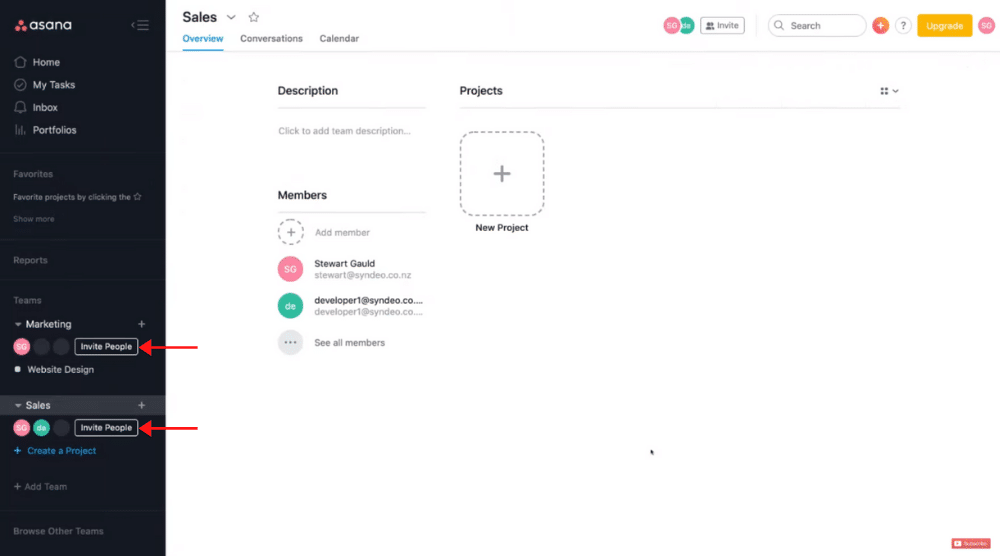 On the left-hand side, under specific teams, you can click 'Invite People' to add more members.
Select the team from the drop-down and choose the project you want this individual to be part of.
Next, enter the email addresses and hit 'Next'.
Creating teams and adding people to those teams is extremely simple using Asana project management.
How to Create Projects in Asana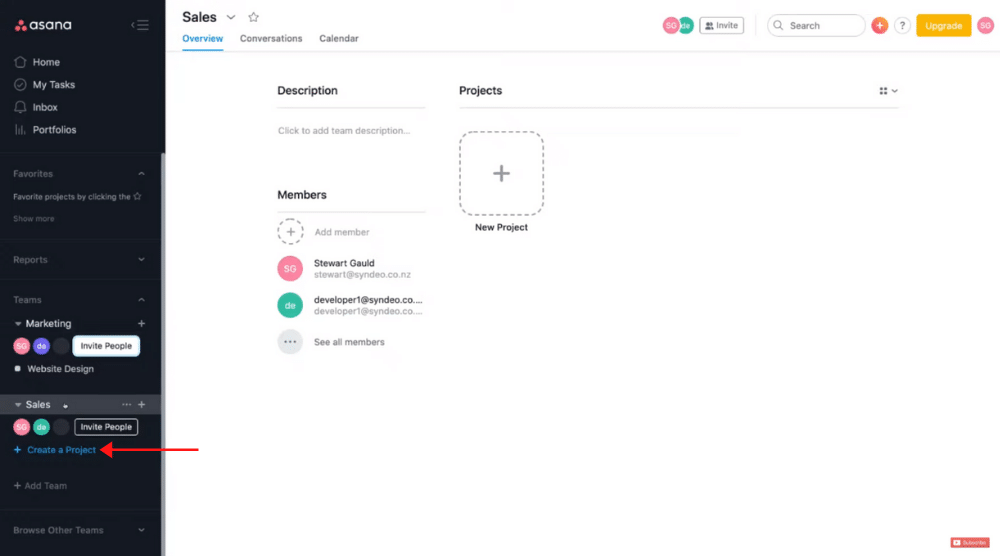 On the left-hand side menu, click 'Create a Project' under the sales team to get started.
Asana allows you to either use premade project templates or create one from scratch.
For this Asana project management tutorial, we're going to use a blank project.
In the following stage, enter the project name, select the team, add a description if you like, choose the default view (the layout), and then select the privacy option ('Public to Sales team' or 'Private' if it's just something you're working on).
Click 'Create Project'.
Your new project 'Branding' (for us) has been created. Now, simply click 'Add task' to create tasks under this project.
Similarly, click 'Add section' to create sections under this project.
You can just drag and drop appropriate tasks under their respective sections.
From the menu above, you can choose the project layout – list, board, timeline (a premium feature), calendar (suited for tasks with deadlines).
Heading back to the list view, select any particular task and edit details on the right-hand side.
Here, you can add an assignee, due date, projects, description, and subtasks.
Moreover, you can add attachments from your computer, Dropbox, Google Drive, Box, and OneDrive.
Also, if you want to view all your tasks in one place, simply select 'My Tasks' on the left under 'Home'.
Trello vs Asana
Asana is quite similar to Trello. Watch this tutorial to get started with Trello project management software.
Compared to Asana, Trello is more visually pleasing in terms of layouts and structures.
However, as we have explained before, you can always choose different layouts under Asana too.
Also, read: How to use Trello
Asana Tutorial for Beginners (Video Tutorial)
Free project management software like Asana allows you to centralize assets, files, conversations, and information.
It facilitates workflow management, process control, team accountability, analytics, and more.
By following this tutorial, you'll find that Asana is extremely easy to use and a great option for small teams and those that require basic project management features.
Enjoy our complete Asana tutorial video below: