What Is Google Calendar?
Google Calendar is a free scheduling and time management software developed by Google to allow better management of day-to-day activities, tasks, meetings and events.
In this Google Calendar tutorial for beginners, we're going to share everything you need to know about how to use Google Calendar effectively to boost your productivity.
Benefits of Using Productivity Software
If you want to see measurable improvements in your work, you should utilize free productivity software like Google Calendar.
Time management is, without a doubt, the most beneficial aspect of using a productivity tool.
But there's more to one of the best free productivity software than just time management.
Most entrepreneurs tend to move to the "next big thing" without leveraging the full potential of an existing tool.
How To Use Google Calendar?
Google Calendar is a remarkable free productivity tool for small businesses.
This Google Calendar tutorial for beginners will help you make the most of this powerful, easy to use and integrative project management and productivity app.
So, let's begin!
1. How To Access Your Google Calendar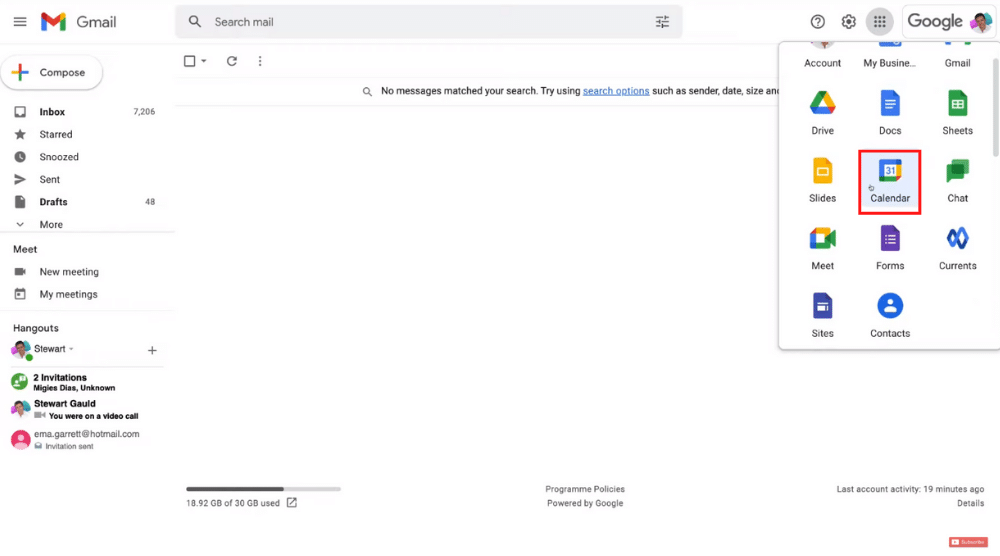 First, you will need a free Google Account.
If you don't already have one you can simply create one for free Click here:
To access your Google Calendar, head over to Google Search and navigate to the top right-hand corner of your screen.
Find Google Apps and click on 'Calendar'.
Alternatively, you can type in calendar.google.com or Click here to arrive at Google Calendar.
You may be asked to sign in to your Google account if you haven't already.
The third method to access this free calendar software is from your Gmail account.
On the top-right of your Gmail inbox, you'll find Google Apps again. Locate Google Calendar and click on it to get started.
2. Know Your Google Calendar
Before we dive into how to use Google Calendar for scheduling, we first want you to have a better understanding of the Google Calendar app.
On the left-hand side, you can see 'Create' which we will explain shortly.
Below that, you can see the snapshot of your Google Calendar.
You can switch the months on this calendar but it won't affect anything on the right-hand side – unless you select a specific date of another month.
Next and further down we have 'Meet with…" where you can search people that you have meetings with.
On the right-hand side, you'll be able to see all the events. Now, under 'My calendar', you can see all the color-coded events.
By unchecking the box, you can remove any task, reminders, birthdays, etc.
By clicking 'x' you may also unsubscribe from any of these calendars. Similarly, you can create a new calendar by tapping the '+' sign.
Here, you can:
Subscribe to calendar
Create new calendar
Browse calendars of interest
On your Google Calendar, you can also add regional holidays, public holidays, global religious holidays, sports, and others.
For this Google Calendar tutorial, however, we're just going to select 'Your Contacts' under 'Birthdays'.
For each calendar, you can also navigate over to other options such as color code, hide from the list, etc.
You can also move to the next week or preceding week by clicking '<' or '>' next to 'Today'.
On the search bar, you can type in related keywords to find specific events.
Next to search, you'll find the option to change how your Google Calendar looks.
Currently, we have chosen 'Week' but you may go ahead and choose 'Month' or 'Year' instead.
3. Create Google Calendar Event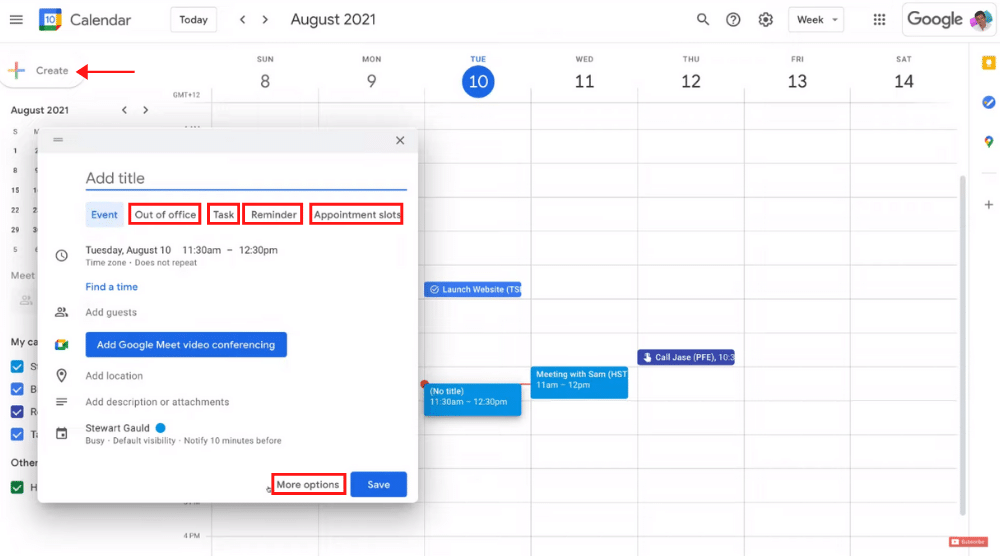 Google Calendar is one of the best productivity apps that allows you to create events.
To do that, you need to select 'Create'.
Here, you may also create, out of office, tasks, reminders and appointment slots.
However, in this Google Calendar tutorial for beginners, we'll focus on creating events.
Type in the event title and other basic details before you select 'More options'. Under this, choose a date and time to schedule your meeting.
If it's an all-day event, check the box that says 'All day'.
If it's a recurring activity, select the frequency of the reminder (Weekly on Monday, for instance).
Under 'Event Details' you'll find the copy button that you can press to copy the event link.
Next, add a location (if it's not a virtual event) and set notifications to 'Email' and choose a time. Currently, we have '10 minutes' selected.
Below that, you would notice the calendar where you can also use color-coding.
Choose 'Free' and 'Default visibility' in the next step.
Below that, you can add descriptions and edit them using the formatting options.
Under 'Guests' on your right, you may add guests and modify guest permissions. Once you're happy with your new event, hit 'Save'.
You'll be able to view the event in the next week.
4. Edit Calendar Events
To edit each event, simply click on the event and then select the pencil icon.
That's going to take you to an area where you can edit the event. You can also add email guests or delete the event if you no longer need it.
On the right-hand side, you can view the tasks.
Again, click on any task and select the pencil icon to edit it. Also, you can mark it as complete when it's over.
Also Read: How To Secure Your Gmail Account 
Google Calendar Tutorial for Beginners (Video Tutorial)
Google Calendar is ideal free productivity software that allows you to schedule tasks, meetings, and other events.
It's an excellent tool for small business owners to manage day-to-day tasks with ease.
Moreover, if you like you can watch our Google Calendar video tutorial on Google Calendar, which is created specifically for beginners just getting started with day-to-day task management.