Weebly vs Shopify 2023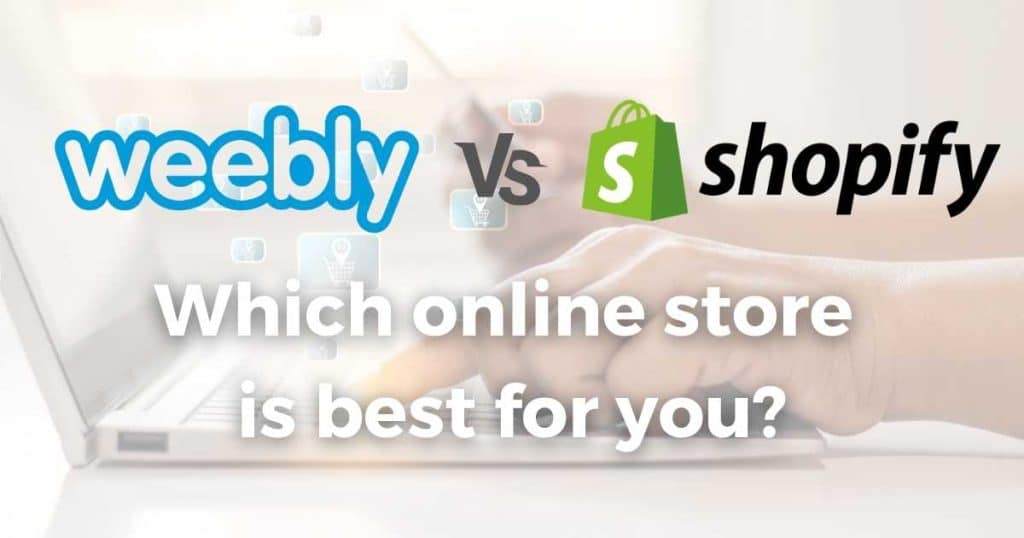 I'll start by saying that both are excellent choices. But there are a few key differences!
I've personally had experience with both tools and understand their strengths and weaknesses. And in this article, I will share and compare everything I know!
I'll dive into the features, pricing, user experience, and support (and everything in between!) of Weebly and Shopify.
So, Weebly vs Shopify – which is best for you?
Let's launch in! 
What Are They? Weebly vs Shopify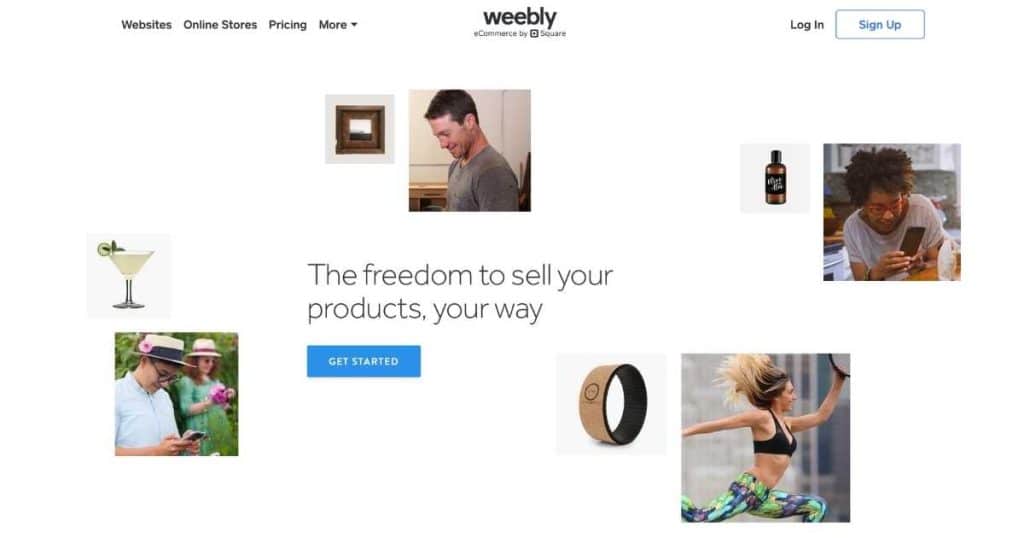 Weebly is an affordable, simplistic, no-code website builder best suited for beginners looking to create a professional website.
However, since being acquired by Square a few years ago, Weebly has upped its game and shifted its focus toward eCommerce.
And now you can use Weebly as a fully-fledged online store solution for your small business!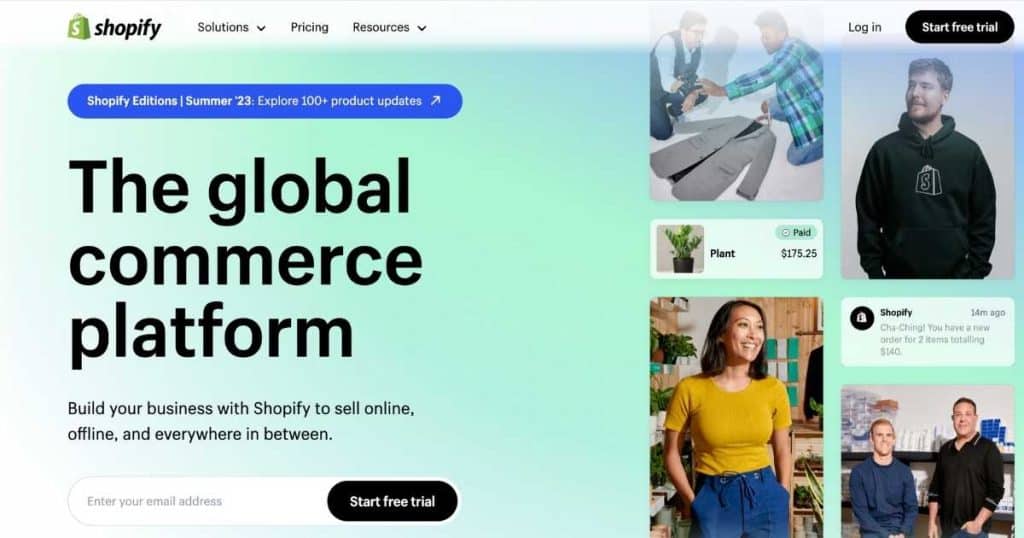 Shopify is a specialized and premium eCommerce platform dedicated to helping you sell your products online.
Known for its powerful and easy-to-use inventory management, order tracking, and payment processing features, even beginners can build an extensive online store from scratch!
Read more: How To Sell Digital Products Online? 
What Are The Differences Between Weebly and Shopify?
With top features, extensions, and built-in solutions, Shopify is undoubtedly the more complex option.
But does Weebly's unique blend of simplicity and affordability give it a competitive edge over Shopify?
It's time to find out. 
Weebly vs Shopify Ease Of Use: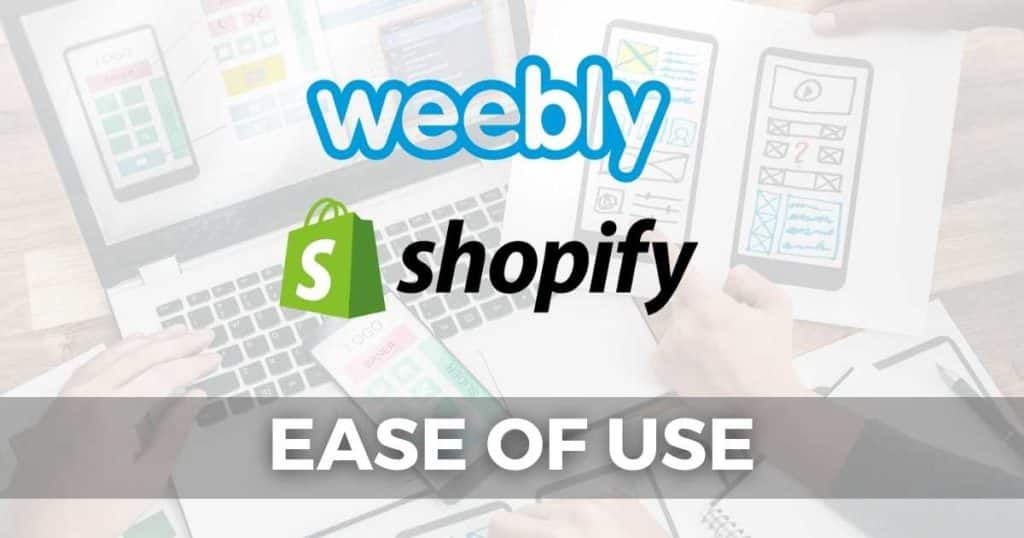 Both Weebly and Shopify are known for their shallow learning curves and usability.
In fact, Weebly's reputation, in particular, is built mainly around its ease of use.
The flexible yet easy-to-use drag-and-drop editor, straightforward navigation bar, and uncomplicated interface really showcase simplicity at its finest!
Plus, Weebly's online store seamlessly integrates directly with its website builder. That's right, say goodbye to messy third-party installations or plugins!
On the other hand, Shopify allows you to do as little or as much as you like. Beginners love Shopify's simplicity, and intermediate users praise its flexibility!
And like Weebly, Shopify also has an intuitive drag-and-drop editing tool.
In terms of store management, Shopify has better features (more on this soon).
In my opinion, Weebly has a slight advantage here, as some may find the number of features on Shopify overwhelming.
In short, if you're tech-savvy, you can create a stunning, versatile, unique website with Shopify. Otherwise, Weebly is the winner!
Winner = Weebly 
Pricing:
Free ($0)
Personal ($13 per month)
Professional ($16 per month)
Performance ($29 per month)
Starter ($5 per month)
Basic ($25 per month)
Shopify ($65 per month)
Advanced ($399 per month)
Shopify Plus ($2000+)
It's worth mentioning that although Shopify's plans are pricier, they're full of powerful built-in features and tools that support your business growth.
In saying that, small businesses on a budget won't be able to look past Weebly's free plan!
Winner = Weebly
Weebly vs Shopify eCommerce Tools: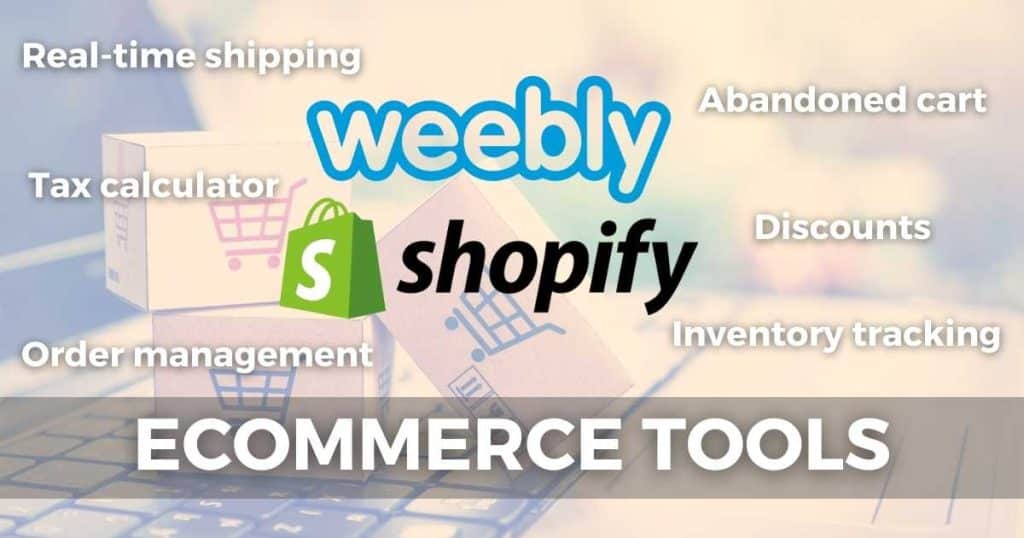 While price plays a significant role in choosing your online store builder, it's important to consider the day-to-day management of your store.
This is where eCommerce tools step in.
Weebly offers a solid set of eCommerce tools, including:
Inventory tracking.
Unlimited items on all plans.
Flexible shipping options.
Out-of-stock alerts.
Integrated shopping cart.
Digital and physical selling capabilities.
Coupon codes.
Filtered product search.
Mobile website building capabilities.
Automatic tax calculator.
Abandoned cart emails (highest paid plan only).
Real-time shipping.
Read more: How to Create a Stripe Landing Page.
However, Weebly simply can't compete with Shopify in this department!
After all, Shopify was specifically designed to bring you an all-in-one eCommerce solution!
Some (but not all!) key features include:
Automatic and flexible shipping rates.
Dropshipping.
100 payment gateways.
Automatic tax calculation.
Discount and giftcards.
Product testimonials and reviews.
Unlimited products.
Inventory and customer management.
Multi-language stores.
Integrated POS system.
Digital and physical selling capabilities.
Multichannel selling on Instagram, Facebook, Amazon, eBay, and other channels.
Learn more about How To Connect Shopify with Your Facebook Store.
You'll be able to run your online store just fine with Weebly. But with advanced inventory and customer management, built-in tools, and multi-channel capabilities, Shopify takes things to the next level!
Shopify's features are scalable, regardless of business size.
Winner = Shopify 
Weebly vs Shopify Stand Out Features:
Themes: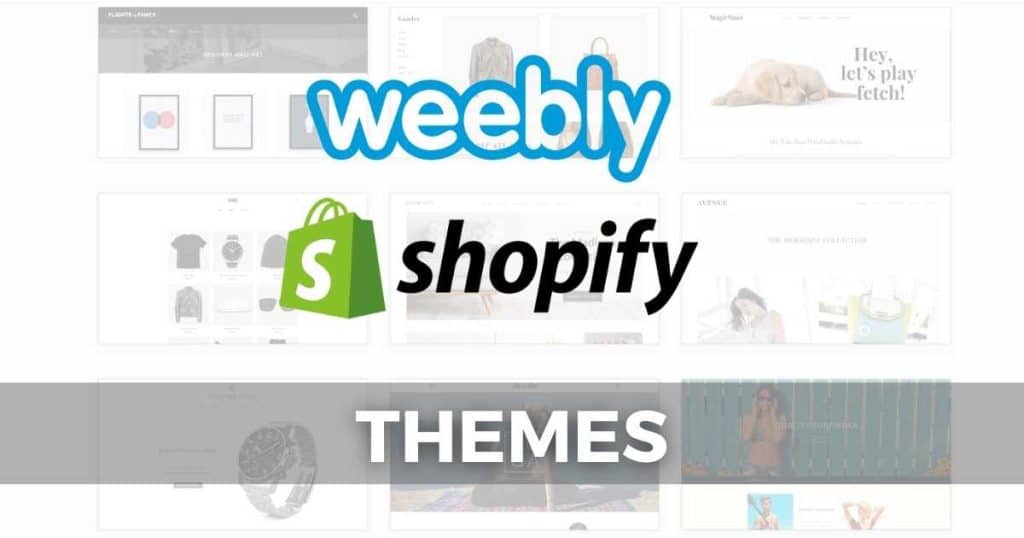 Weebly offers about 50 free themes, with about 15 being compatible with online stores.
All themes are designed neatly. Simply use the drag-and-drop editor to customize your store the way you want.
However, the downside of Weebly's themes is that they're not all mobile responsive.
On the other hand, Shopify has over 150 themes, with just 12 free options. Other paid themes can get quite pricey, with some reaching up to almost $400!
Shopify's intuitive drag-and-drop editor lets you edit your chosen theme down to a fine line. Plus, all themes are mobile responsive.
And in terms of customization, you can edit elements within your theme, edit the code yourself, or hire a developer to create a custom design.
Read more: How to Remove Powered By Shopify on Your Website.
Winner = Shopify
SEO: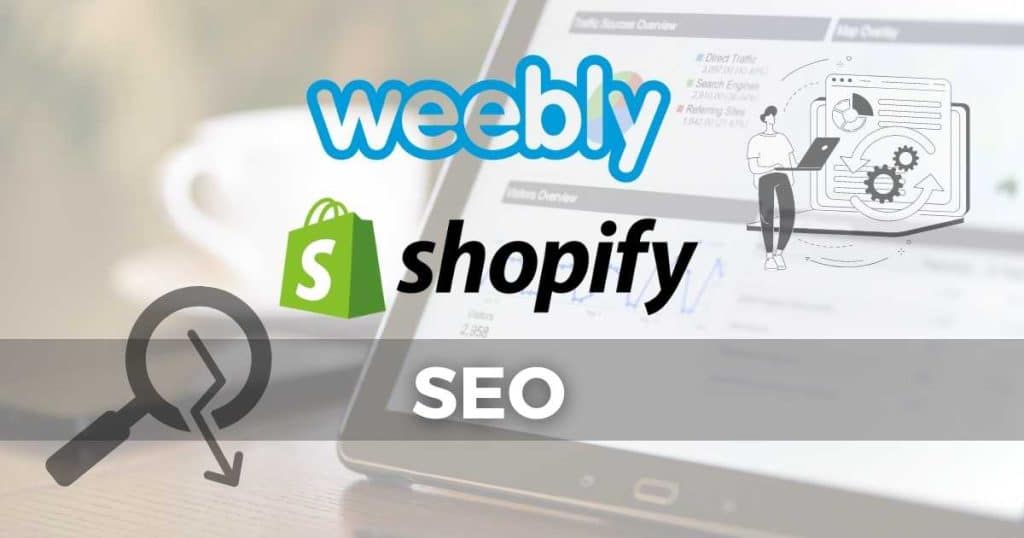 Both platforms offer tools and features to help improve search engine rankings and drive organic traffic to your online store. However, there are a few differences.
Weebly provides built-in SEO features on all plans (even the free plan!)
This includes customizable page titles, meta descriptions, URLs, and the ability to set alt tags for images and generate XML site maps.
And with helpful SEO guides and tutorials available, even beginners can excel in keyword research and optimization.
Shopify also has similar integrated SEO tools such as customizable meta tags and descriptions, automatic and XML sitemaps, canonical tags, and more.
Plus, with useful SEO apps accessed through Shopify and Weebly's app store, you can improve your SEO no matter what platform you go for.
Read more: How to Use ChatGPT for SEO and Keyword Research.
Winner = Tie
Integrations: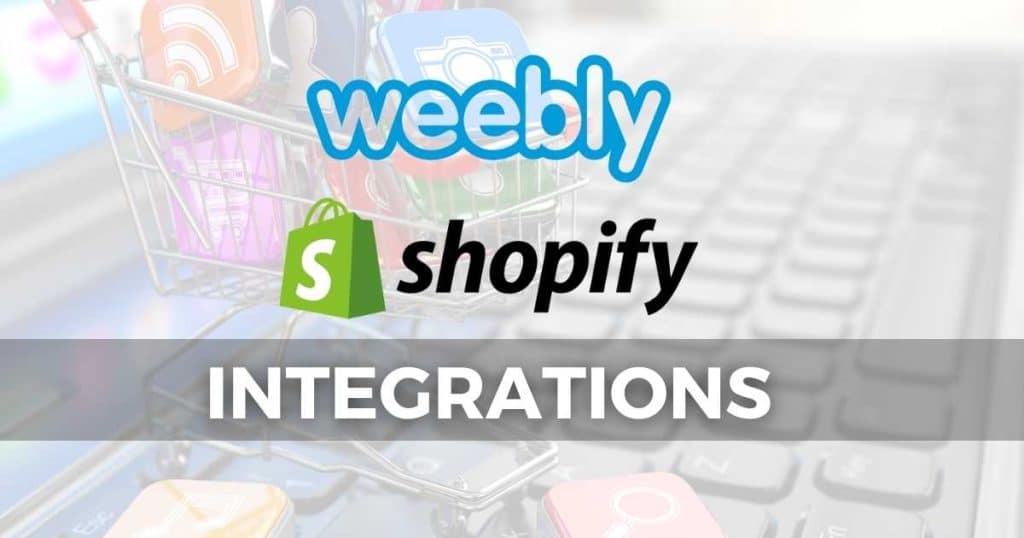 As I said, both Weebly and Shopify have app stores where you can integrate all your favorite apps to enhance your online store.
However, Shopify trumps Weebly in this department, offering over 8000 third-party apps! Around half of those apps are free, with the other half ranging in price.
Weebly's app store offers about 400 apps, with about 60 being free.
One advantage Weebly does have over Shopify is that its apps are integrated, meaning you don't have to worry about installing anything.
All in all, Weebly still offers a lot. But with Shopify, there's an app for anything you could think of to expand your store's functionality!
Read more: Google Analytics and Shopify Integration.
Winner = Shopify
Email Marketing: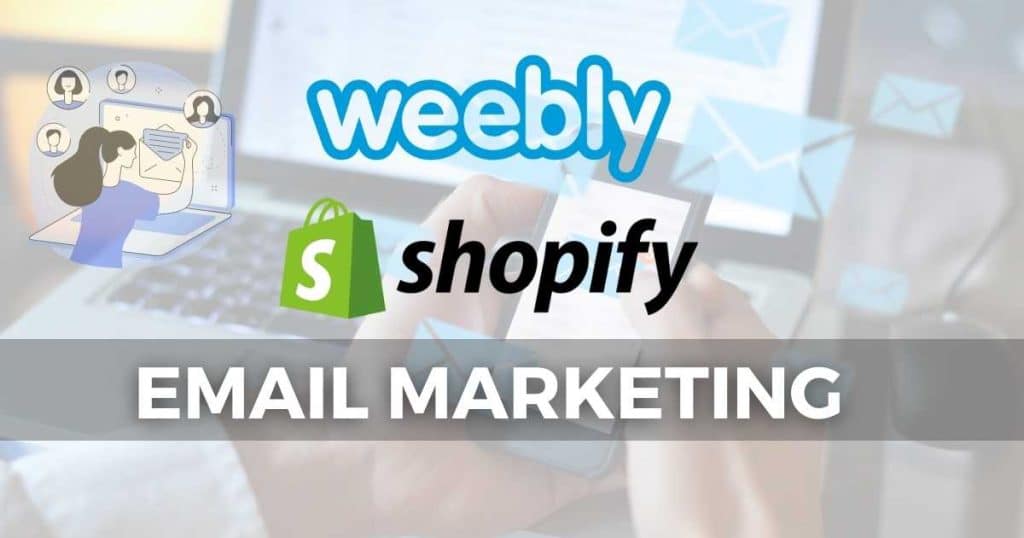 Both platforms have a built-in email marketing function that allows you to send compelling email campaigns.
Weebly Promote is an add-on you can purchase with your Weebly account.
You can send and customize email campaigns, import contacts from Gmail, MailChimp, or Yahoo, segment email lists, and track statistics like open and click-through rates.
Find out more about how to use MailChimp here.
Shopify offers a powerful email marketing tool called Shopify Email – perfect for businesses looking to create and analyze email campaigns.
But unlike Weebly Promote, you can send up to 2,500 emails monthly for free!
Shopify Email boasts an impressive range of customized email templates that combine your store colors, products, and logos.
And because of Shopify's multi-channel selling capabilities, you can launch one-click marketing campaigns on Facebook, Instagram, TikTok, eBay, Walmart Marketplace, and more!
Winner = Shopify
Blogging: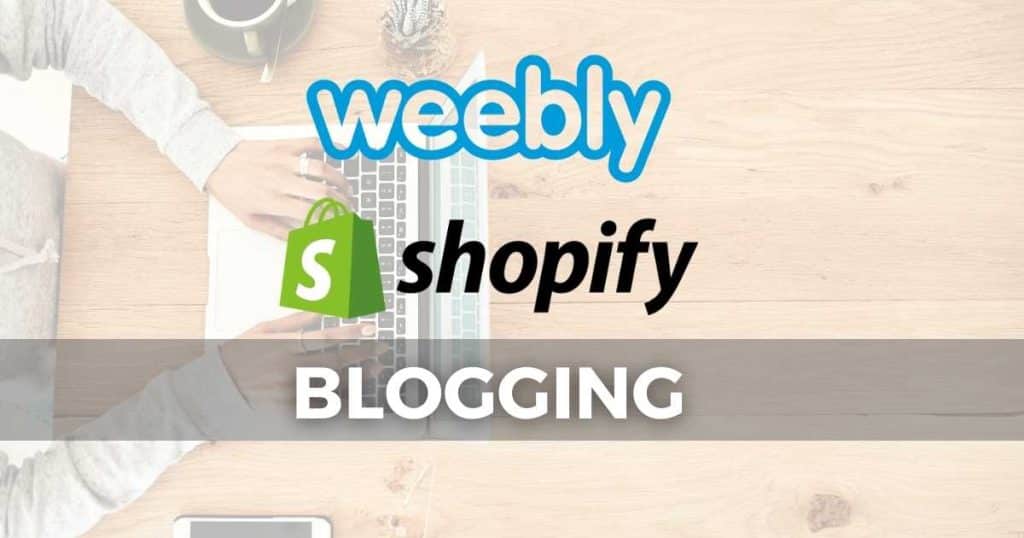 A blog is an excellent way to drive organic traffic to your online store, increase customer engagement and boost your store's SEO.
And the good news is that both platforms offer (basic) built-in blogging tools.
With Weebly, simply add a new 'Story' page to your website within the editor for easy content creation, formatting, and management.
And with Shopify, all online stores come with a default blog called 'News' that can be changed to whatever you like and edited through the drag-and-drop editor.
Shopify's blogging tool has a slight advantage over Weebly, as you can schedule your blog posts in advance or post multiple posts simultaneously.
Read more: How to Install TikTok Pixel on Shopify.
Winner = Shopify
Support:
Weebly's customer support isn't bad – it's limited, especially compared to Shopify.
Only higher-level Weebly accounts receive over-the-phone support, and responses to queries can take longer than anticipated.
Although Weebly is user-friendly, limited support is a significant drawback.
On the other hand, Shopify prioritizes customer support across all plans.
Shopify offers a wide range of 24/7 support options, including Twitter, Live chat, email, and phone support for all account types – even Shopify Basic.
This level of customer support is invaluable for new businesses trying to navigate the world of eCommerce!
Weebly vs Shopify – Who Are They Best For?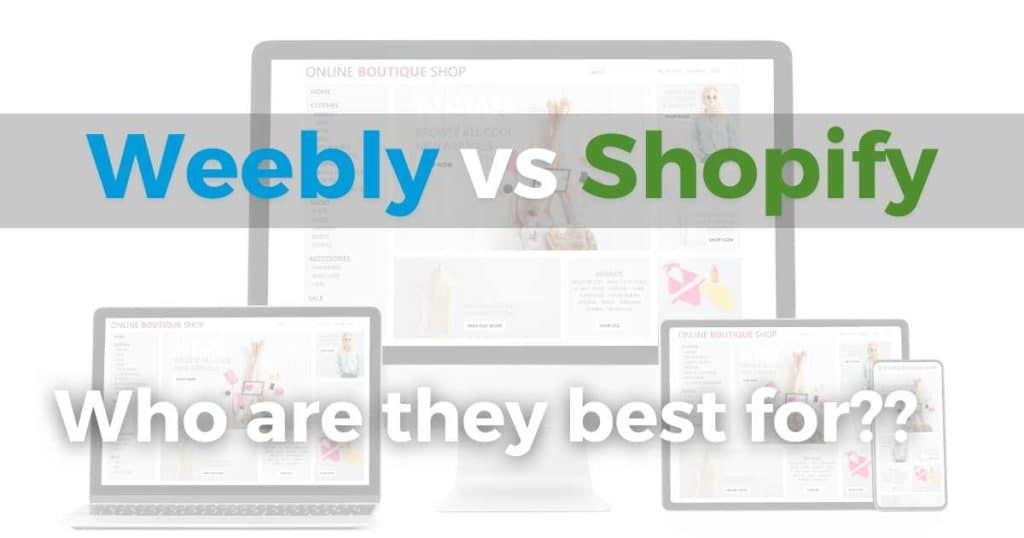 If you're a small eCommerce business and just want to get your online store up and running, Weebly is a great free option.
Additionally, if you're a dedicated blogger and want to add just a touch of eCommerce, Weebly is an excellent choice!
But what about when it comes to eCommerce alone? Weebly puts in a solid effort…but they can't quite beat Shopify's powerful combination of user-friendliness and robust features.
So if you can spend a bit more and plan to scale up your online store in the future, I'd definitely go with Shopify.
Or why not use both? With the 'Shopify Buy Button' you can embed a shortcut on your Weebly website to your Shopify shopping cart!
Alternatively, there are so many other online store platforms out there! Check out my comparison article on Shopify, Wix, and Squarespace here. 
Stews Final Thoughts
Like I said, Weebly puts up a good fight. And I have to credit them for how far they've come in recent years for upping their eCommerce game!
There's no doubt that Shopify is the superior eCommerce platform (against many!)
Weebly is perfect for small businesses on a budget that don't need all the extras Shopify offers.
And Weebly can't compete with all the bells and whistles that come with Shopify!
So with that said, Weebly vs Shopify – what will you be using?
Let me know!