ActiveCampaign vs HubSpot are two popular CRM and marketing automation platforms.
For many years, HubSpot has been the supreme option for businesses looking for an all-in-one sales and marketing platform.
But you're here because you've heard of ActiveCampaign, a top HubSpot alternative.
So, does ActiveCampaign beat what HubSpot has to offer?
Let's jump in and find out.
Read more: 7 Best CRM Software For Small Business. 
ActiveCampaign vs HubSpot 2024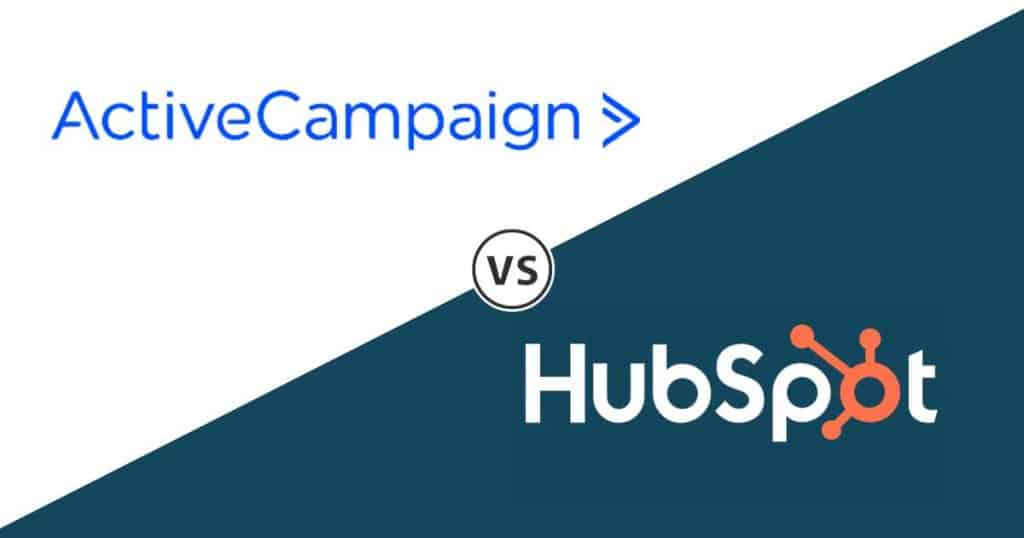 Don't get me wrong; both platforms offer an impressive range of tools.
Both platforms have subtle differences, and what truly sets them apart is the unique value they bring to different types of businesses.
But which is the best tool to help you streamline your marketing, sales, and customer service processes?
That's exactly what I'm going to find out!
I aim to compare the features and functionalities of ActiveCampaign and HubSpot to find the solution that best suits your business.
Are you ready for the ultimate face-off between these industry-leading platforms?
Read more: ActiveCampaign vs MailChimp 
What Are They? ActiveCampaign vs HubSpot
ActiveCampaign is a marketing and CRM (customer relationship management) platform that helps businesses grow by attracting leads, closing sales, and improving customer relationships.
With a range of incredible email marketing and automation features available, you can design stunning email campaigns or newsletters to send to your audience.
The ultimate goal? To help you expand your customer base and improve engagement!
ActiveCampaign is versatile, flexible, and scalable. So whether you're just starting out, or seeking to reach the next level, ActiveCampaign has the tools to make it happen.
On the other hand, HubSpot is a leading online sales, service, and marketing platform that can help you effectively manage your customer relationships.
But HubSpot isn't just a CRM tool. If you're after a one-stop shop to take your business to the next level, look no further than HubSpot!
With email marketing features, website-building capabilities, pipeline management, and meeting scheduling tools (the list goes on!), you can:
Increase productivity.
Improve communication.
And Strengthen customer relationships with HubSpot.
Read more: How To use HubSpot CRM?
What Are The Differences Between ActiveCampaign vs HubSpot?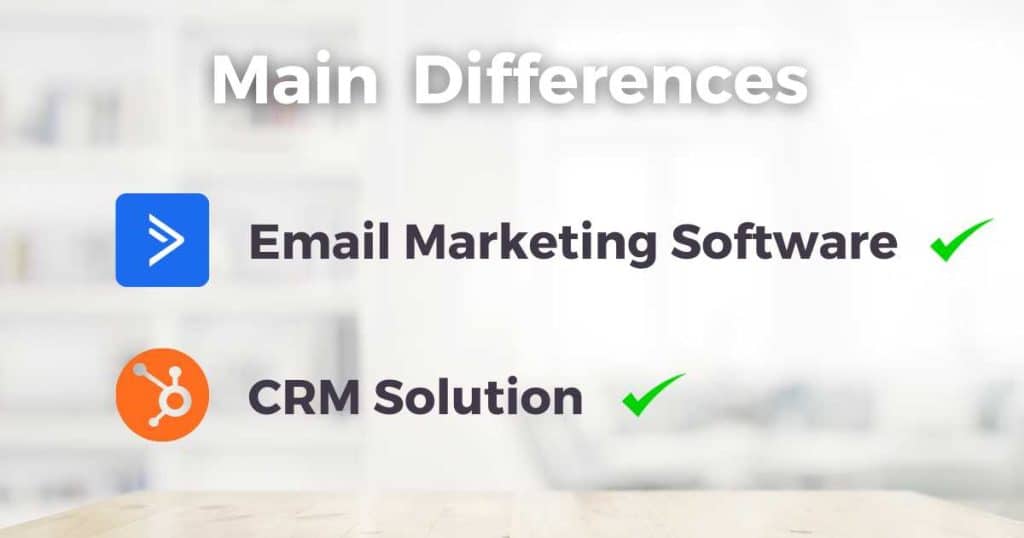 While both tools share common goals and features, there are some differences you should consider before picking one for yourself. Which I guess is why you're here!
One of the biggest differences between HubSpot and ActiveCampaign is their focus.
HubSpot is primarily centered around CRM, with a secondary focus on email marketing and project management.
In comparison, ActiveCampaign was primarily designed for email marketing that also offers a supplementary built-in CRM tool.
In terms of features, HubSpot's excellent customer data and communication tools surpass ActiveCampaign's abilities.
But ActiveCampaign's robust marketing automation tools are one of the best in the business!
Okay, let's get into specifics.
Read more: Top 5 Best FREE Email Marketing Software For Small Business. 
Ease Of Use
Powerful online tools don't necessarily need to be complex.
And while both HubSpot and ActiveCampaign are easy to use, is there one that comes out on top?
HubSpot's uncomplicated interface and customization options are feature-rich but don't feel overwhelming. But if you feel overwhelmed, HubSpot's 'getting started' tour will take care of that!
Another plus is that you can organize your dashboard according to your preferences and priorities, allowing you to focus on what's essential.
While ActiveCampaign's interface is also quite intuitive, it has a steeper learning curve for beginners due to its extensive menu options.
Although there's a handy search bar to locate your contacts, campaigns, or deals faster, one of the drawbacks is that you can't add multiple email addresses for the same lead/contact.
This isn't a problem with HubSpot – you can add multiple email addresses hassle-free!
Both platforms are user-friendly, but for beginners looking for a more seamless and shallow learning curve, HubSpot is the clear winner on this one.
Winner = HubSpot.
Read more: MailerLite vs ActiveCampaign  
Pricing:
ActiveCampaign offers 4 plan options and different plan types within those options.
Let's look at their Sales Plans (best for CRM):
Plus: $19 per month.
Professional: $49 per month.
Enterprise: Custom price.
These plans don't include email marketing tools. So, if you're after CRM and email marketing services, I'd go for the Bundle plan (pricing ranging from $93-$386 per month).
HubSpot's range of plans is complex, to say the least – so listen up!
There are dedicated CMS, sales, marketing, operations, and CMS plan types, each with tiers within those plans.
But let's keep things simple. For small teams, go with the free plan.
Why? Their free plan is one of the best on the market, offering up to 1,000,000 contacts, unlimited users, and unlimited customer data.
If you want to spend a bit more, I'd pick the 'CRM Suite' plan, which comes with all the marketing, sales, CMS, service, and operations tools you'll ever need in one handy place.
Each plan comes with three tiers for individuals and small teams:
Free: $0
Starter: From $20 per month.
Professional: $360- $800 per month (depending on your chosen plan type).
Or, you can 'Build your own bundle' to create a unique plan best suited for you.
ActiveCampaign doesn't have a free plan – so HubSpot wins on that account.
In saying that, if we look at the 'Professional' higher-paid plans, there isn't much difference between the two in terms of features, but HubSpot is significantly more expensive.
You can build a blog and access more SEO tools with HubSpot. But is it worth paying hundreds of dollars more per month??? I don't think so!
Winner = HubSpot (small teams) ActiveCampaign (larger enterprises).
Read more: Omnisend vs Klaviyo.
ActiveCampaign vs HubSpot Tools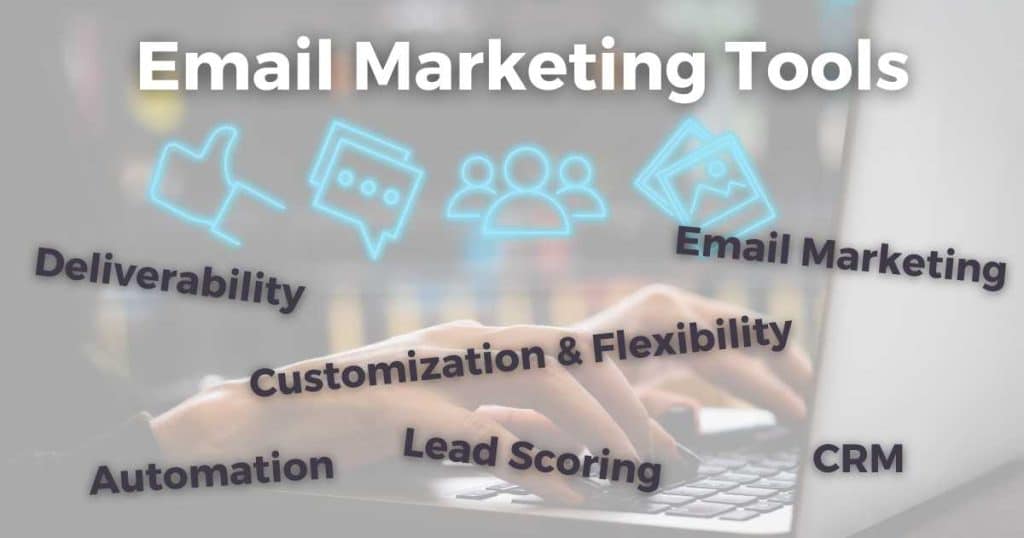 Customization and Flexibility
How do both tools stack up when it comes to flexibility and customization within pipelines and dashboards?
You'll be pleased to know that both platforms offer a wide range of dashboard customization options!
But HubSpot has the upper hand here, as you can actually build your reporting dashboard from scratch and then share it with your team.
In terms of deal pipelines, both platforms provide flexibility.
ActiveCampaign lets you fully customize pipeline stages to match your specific sales processes, and you can create multiple pipelines for different products or services.
HubSpot also offers customization options, with the added advantage of more filters.
However, the free HubSpot plan only lets you create one pipeline, and the 'Starter' plan only allows for two.
Both platforms feature a search bar and use a drag-and-drop tool for moving deals through sales stages, and they're evenly matched when it comes to editing columns and adding properties.
In terms of customization and pipeline management, each has pros and cons. Therefore, this one has got to be a tie!
Winner = Draw
Read more: How To Create a Sales Pipeline With HubSpot.
Deliverability:
Choosing a platform with a high delivery rate is important if you're sending out email newsletters, campaigns, or other marketing communications through email.
Although both platforms are very capable of sending out captivating emails, the email deliverability rates differ slightly.
According to a recent delivery rate study, ActiveCampaign has an impressive average delivery rate of 93%, which is consistently high (June 2023).
They use machine learning algorithms to analyze consumer behavior and then send customized emails to customers based on that information.
This improves the chance of emails arriving in your contacts inboxes!
In the same study, HubSpot's email deliverability rate is lower than ActiveCampaign's, coming in at about 80%.
While both ActiveCampaign and HubSpot have high email delivery rates, ActiveCampaign has an edge due to its machine-learning algorithms.
As a result, ActiveCampaign is better equipped to ensure that emails reach the intended recipients' inboxes!
Winner = ActiveCampaign
Read more: Klaviyo vs MailChimp.
Lead Scoring:
There's a reason why HubSpot is renowned for its lead-scoring capabilities.
With HubSpot, you can assign scores to leads based on their behavior and engagement, which gives you a competitive edge in identifying and prioritizing valuable prospects.
By tracking actions like email opens, website visits, and resource downloads, lead scores dynamically increase, allowing you to focus on leads with the highest potential for conversion.
ActiveCampaign excels in segmenting leads based on criteria like behavior, demographics, and engagement, but falls short regarding comprehensive lead scoring.
Don't get me wrong, ActiveCampaign's segmentation capabilities allow for tailored marketing campaigns, but you'll have to put in more energy to prioritize leads for optimal efficiency.
It's no surprise that HubSpot takes the lead with its powerful lead-scoring capabilities when it comes to efficient lead management.
By leveraging HubSpot's advanced lead-scoring functionality, you can seamlessly align your sales efforts, increase conversion rates, and drive business growth!
Winner = HubSpot
Read more: Omnisend vs tinyEmail.
Automation:
ActiveCampaign is well-known for its robust email automation features, where you can create highly sophisticated workflows based on customer behaviors.
With ActiveCampaign, simply automate workflows that trigger targeted emails based on online behavior, including:
Pages visited.
Products or services viewed.
Forms filled out.
And with dynamic features such as split testing, site tracking, lead scoring, and segmentation (to name a few!), there are no limits with ActiveCampaign automations!
Plus, did you know their awesome automation capabilities extend into their built-in CRM solution if you opt for the bundle plan?
Here, you can automate actions like adding or removing contacts from lists, notifying team members, or updating contact details.
HubSpot's automation features are also pretty good. You can create workflows based on form submissions, website visits, and email opens.
Plus, you can streamline sales procedures, schedule meetings, and send follow-up emails to leads.
While ActiveCampaign and HubSpot have sophisticated automation features, ActiveCampaign's workflows are more flexible and personalized. HubSpot's workflows have limitations in complexity.
Winner = ActiveCampaign
Read more: How To Create a Landing Page in HubSpot.
Email Marketing:
As mentioned, HubSpot's Free plan includes basic email marketing functionality.
You can send up to 2,000 monthly promotional emails to your contacts.
But unfortunately, templates are only available on paid plans, meaning your email designs will be limited unless you opt for the 'Marketing Starter' plan ($20 per month).
With this plan, you'll get email templates, 1,000 contacts, and 5,000 emails.
Now, let's compare this with ActiveCampain. ActiveCampaign offers 150+ templates even on the basic plan ($39 monthly for 1,000 contacts).
And with ActiveCampaign, your email send limit is 10x your monthly contact limit on all plans!
Considering the limitations of HubSpot's free plan (and the cost of the paid account), ActiveCampaign takes the cake in this category!
But after all, ActiveCampaign is primarily an email marketing platform, so it makes sense that it's the superior choice for this category.
Winner = ActiveCampaign
Read more: ClickFunnels vs ActiveCampaign.
CRM:
Okay, so we've established that both tools offer CRM functionality. But which one does CRM better?
ActiveCampaign offers basic CRM capabilities such as:
Contact management.
Deal tracking.
Task management.
Automation of sales processes.
Integrations with their email marketing tools.
On the other hand, HubSpot's CRM is designed for larger businesses and provides the basic CRM features mentioned above, plus more advanced features like:
Lead scoring.
Meeting scheduling.
Predictive lead scoring.
Sales forecasting.
Integrations with their very own marketing and sales automation tools.
A dedicated mobile app.
Note: Some of the above features may not be available on HubSpot's free plan.
While both ActiveCampaign and HubSpot have CRM capabilities, HubSpot's CRM is more sophisticated and scalable, allowing for a seamless end-to-end sales process.
Winner = HubSpot
Read more: How To Set Up HubSpot CRM. 
Support: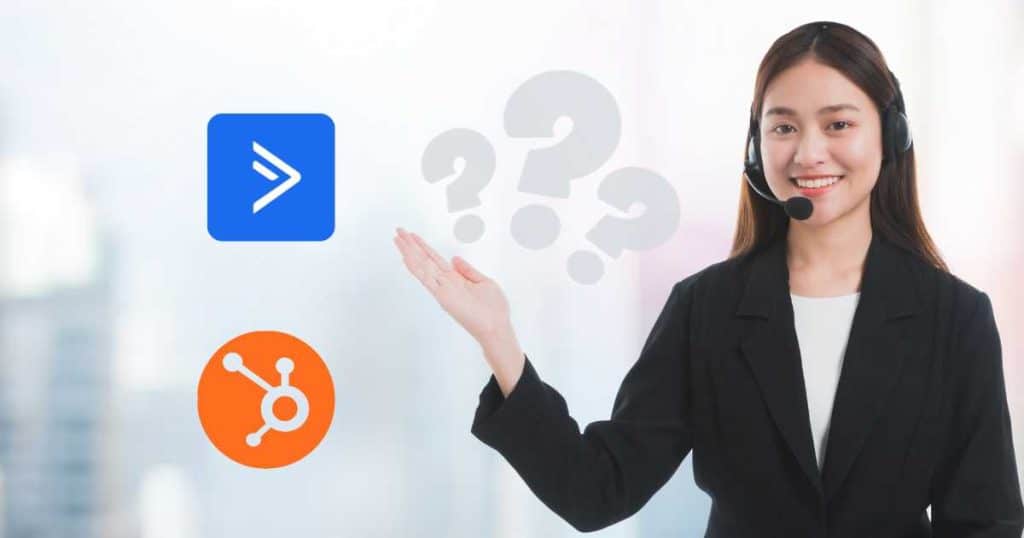 HubSpot and ActiveCampaign both take customer service seriously.
If you're on HubSpot's free plan, you can access the HubSpot Community, which is full of helpful courses, eBooks, guides, and articles.
But you'll have to upgrade to the Starter plan if you're after in-app and email support.
And phone support, on the other hand, is exclusively available to Professional plan users.
ActiveCampaign offers support via chat and email across all plans. Phone support, however, is limited to users on the Enterprise plan.
Additionally, ActiveCampaign also has a knowledge base with video courses, articles, and a community forum.
And one of the benefits of choosing the Plus paid plan (or higher), is that you'll get one-on-one training.
In terms of support, it's a close call. Both platforms offer a plethora of support options (depending on which plan you go for). Therefore, I'm calling this one a draw!
Winner = Draw
Read more: 6 Best HubSpot Alternatives. 
ActiveCampaign vs HubSpot Who Are They Best For?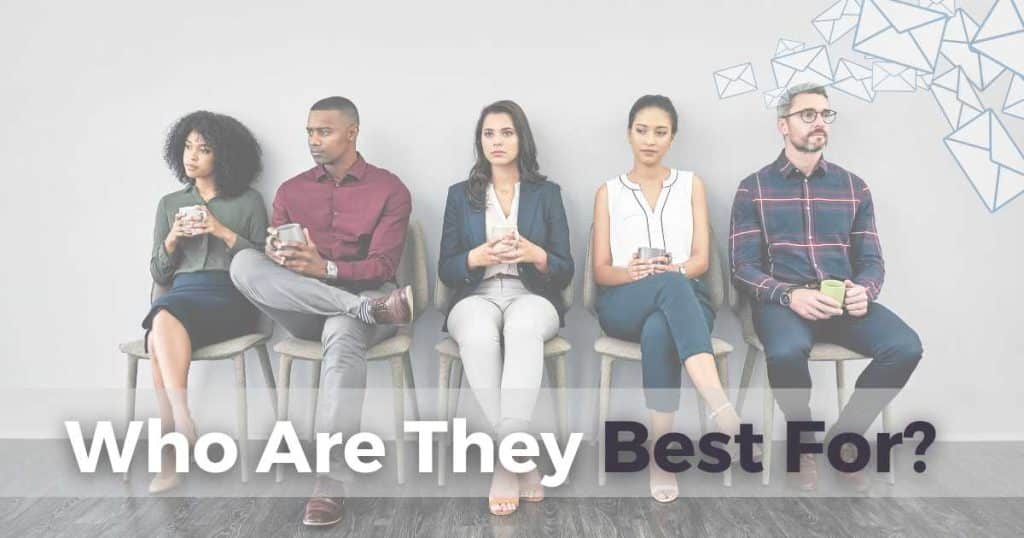 So, with all that said, which one should you pick?
If you're a small to mid-size business primarily looking for an extensive email marketing platform, you can't go past ActiveCampaign's incredible automation workflows.
With ActiveCampaign, you can effortlessly nurture your leads and customers by sending targeted and powerful emails to your contacts.
Plus, if you require a CRM, you can centralize your data, manage contacts, and track customer interactions on the same handy platform.
Alternatively, if your priority is an affordable CRM, but you're also after basic sales and email marketing functionality, HubSpot's free plan is the way to go.
With CRM, email marketing automation, social media management, and customer support tools, HubSpot is perfect for teams looking for a scalable, all-in-one solution. 
Stews Final Thoughts
That is everything you need to know about these two amazing platforms!
Email marketing and CRM tools come hand in hand with each other. And the good news is that both platforms offer both services.
As you can see, I speak highly of both. But which is better? Well, it depends on each team's specific needs.
My advice? Think about what your goals and priorities are within your business.
If you want to grow your email list and gain more leads, go with ActiveCampaign.
But if managing and improving customer relationships is important to you, HubSpot is the better choice.
So which will you choose? ActiveCampaign vs HubSpot? Let me know.